2009 NBA Preview: Atlantic Division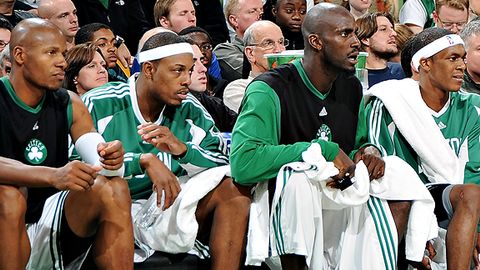 This year, we're doing a division-by-division preview with quick-hitting analysis for every team in the league. If a franchise is a legitimate championship contender, I'll focus on what stars have to line up for a title run. If a team is a playoff "also-ran," I'll identify the weaknesses that have to be shored up via trade, free agency or draft over the next couple of seasons to make it a contender. If a team is likely to miss the playoffs, I'll take a look at the salary cap, and provide a blueprint for how the team should proceed in the near future to get back in the postseason. At the end of each divisional preview, I'll provide some (random) thoughts for the fantasy hoopsters out there.
For each division, I'll pick the order of finish. You'll also see the team's league-wide preseason rank in parenthesis.
Boston Celtics (5)

Normally, the return of a healthy Kevin Garnett would be enough to thrust the Celtics back to contender status, but with the way the rich got richer this summer in terms of talent, GM Danny Ainge knew he had to improve his team, so he went out and signed Rasheed Wallace to give the C's another big body up front. If everyone is healthy, minutes are going to be a problem, as Glen Davis and Kendrick Perkins deserve to play, but one might get squeezed out by Garnett and Wallace. In the backcourt, the big question seems to be the overall attitude of Rajon Rondo, who is running out of time to sign an extension. It is unlikely that he and the Celtics will come to terms by the end of the month as the two sides are reportedly far apart in perceived value. Marquis Daniels was brought in to shore up the backcourt, so the Celtics will once again head into the season with a deep and talented roster. But can everyone stay healthy? If Garnett, Rondo, Paul Pierce and Ray Allen are all feeling good come playoff time, the Celtics will be a serious threat to make the Finals.