2009 NFL Preview: #31 St. Louis Rams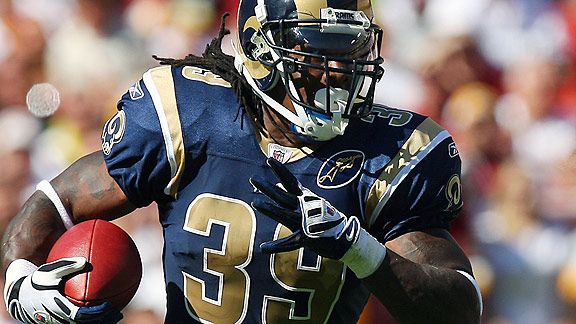 Check out all of our 2009 NFL team previews.
Offseason Additions: Jason Brown (C); James Butler (CB); Kyle Boller (QB); Billy Bajema (TE).
Offseason Losses: Torry Holt (WR); Orlando Pace (OT); Pisa Tinoisamoa (LB); Nick Leckey (C); Anthony Becht (TE); Fakhir Brown (CB); Jason Craft (CB); Dane Looker (WR); Brett Romberg (C).
Player to Watch: Laurent Robinson, WR.
The Rams acquired the former third round pick from Atlanta this offseason and thus far, he has impressed. He's already solidified the No. 2 receiver position across from Donnie Avery and could emerge as the Rams' top playmaker in their passing game. At 6'2, 194-pounds, Robinson has excellent size, speed and has demonstrated this summer that he can catch the ball in traffic. Injuries forced him out of Atlanta, but he's making a name for himself in St. Louis and could become a household name by the end of the season.
Team Strength: In the past three years, the Rams have invested two first round picks in their defensive line and with the guidance of former Giants' defensive guru Steve Spagnuolo, the unit could become a strength this season. Of course, that will depend on whether or not former second overall pick Chris Long can take the next step in his development and if former '07 first round pick Adam Carriker can stay healthy. Defensive ends tend take a couple years to develop, but Long has the drive and tenacity to inevitably succeed. Although he's getting long in the tooth, Leonard Little still brings plenty to the table as a pass rusher and could help free up Long to make plays on the other side. Assuming Carriker and Little can stay healthy and Long blossoms in his second year, the D-line could be one of the few positives for the Rams this season.
Posted in: NFL
Tags: 2009 NFL Predictions, 2009 NFL Preview, Adam Carriker, Adam Goldberg, Alex Barron, Chris Long, Jacob Bell, James Laurinaitis, Jason Brown, Jason Smith, Jonathan Wade, Laurent Robinson, Leonard Little, Marc Bulger, NFL, NFL Predictions 2009, NFL Preview 2009, Ron Bartell, St. Louis Rams, Steve Spagnuolo, Steven Jackson, Tye Hill