2009 NFL Preview: #1 New England Patriots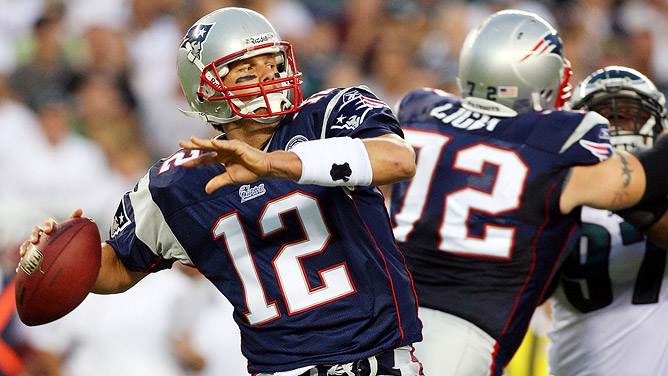 Check out all of our 2009 NFL team previews.
Offseason Additions: Derrick Burgess (DE/OLB); Leigh Bodden (CB); Chris Baker (TE); Joey Galloway (WR); Fred Taylor (RB); Paris Lenon (LB); Tully Banta-Cain (LB).
Offseason Losses: Richard Seymour (DE); Matt Cassel (QB); Rodney Harrison (S); Heath Evans (FB); Jabar Gaffney (WR); LaMont Jordan (RB); Deltha O'Neal (CB); Lewis Sanders (CB).
Player to Watch: Tom Brady, QB.
After missing virtually all of last year following a season-ending knee injury in Week 1 of the season, Brady is completely healthy again and ready to pick up where he left off in 2007 when he led the Patriots to an undefeated regular season. In preseason, Brady looked like the same quarterback that gives coordinators and defensive backs nightmares, routinely hooking up with receiver Randy Moss and showing no ill effects of the injury. By all accounts, it seems like nothing has changed and considering Brady will be protected by the best offensive line in football, New England is once again a Super Bowl favorite.
Team Strength: Thanks to Brady, receivers Moss and Wes Welker, and the best pass-protecting offensive line in football, the Pats' passing game will once again be lethal. Will it be as explosive as it was in 2007 now that Brady is playing on a repaired knee and former offensive coordinator Josh McDaniels is now in Denver? It's definitely a possibility. Brady is completely healthy and even though Moss is another year older, he still commands double teams and that allows Welker to get underneath coverages and burn defenses once he gets into open space. Plus, losing McDaniels isn't as crippling as one would think because Bill Belichick does such a great job of grooming his assistants that when one moves on, another one takes his place without missing a beat. New England might not average 37 points a game like it did in '07, but Brady and company will be feared again.