Anthony Stalter vs. Ted Thompson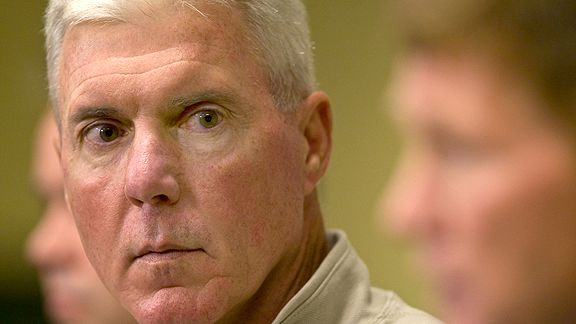 Regular readers know that Anthony Stalter is our NFL guru and that I'm a huge Packer fan. And since Green Bay's general manager, Ted Thompson, made one of the more questionable trades of the day — giving up a second round pick and two third round picks to move up and select USC linebacker Clay Matthews — we thought it would be interesting to have Anthony play general manager for those three picks and see if things would have turned out better had the Packers stood pat (and drafted on Anthony's recommendations). So Anthony is going to pick players at 2.09, 3.09 and 3.19 (the three picks Thompson gave up for Matthews) and see if he can do any better.
Thompson has a reputation for being one of the best general managers in the league on draft day, but Anthony sure didn't agree with how much the Packers gave up in order to land Matthews:
But to give up their second round pick and two third round selections was just too much – especially considering Matthews could be one of the more overrated prospects in this draft. Some believe that he's more of a bodybuilder posing as a football player (i.e. he looks great in workouts but could fizzle once he gets onto the field) and his character has come into question after it was made public that he and fellow USC teammates started a Facebook group called, "White Nation," in which they posted a picture of an African American baby in handcuffs and had a caption underneath that read, "arrest black babies before they become criminals." He claims it was just a joke and maybe he will turn out to be a versatile pro. But the trade and selection were very un-Ted Thompson-like for draft day.
We'll revisit this after each of the next three seasons (unless the winner becomes obvious before then) and see how the two strategies compare. In the interests of fairness, I asked Anthony to make his pick at 2.09 without thinking about who slipped to 3.09 or 3.19.
So, without further ado, Anthony's picks…