NFL Draft: 5 Second Day Steals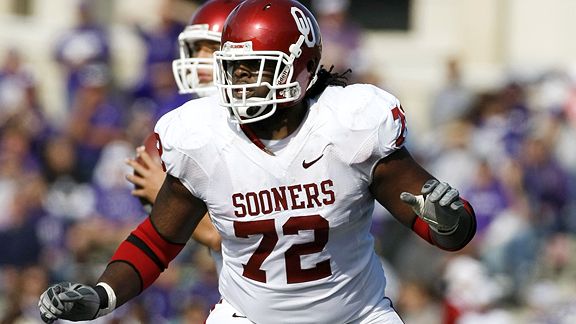 What constitutes a second day steal in the NFL draft? Well, opinion of the evaluator above all else, I guess. But if a player was projected to be taken higher than he was, then that plays into the notion that a team got somewhat of a steal for that selection. Below are five players that were selected on Day 2 of this weekend's draft that I thought were decent steals.
1. Carolina Panthers No. 163, Round 5: Duke Robinson, G, Oklahoma
I was flat out flabbergasted that Robinson fell to the fifth round. Not that this holds much water because I'm not a scout, but I projected Robinson to go to the Steelers with the last pick in the first round in each of my three mock drafts. He was arguably the best guard prospect in the draft and instead of being a first day lock, he fell all the way to No. 163 for reasons unbeknownst to me. He has the talent to be a future starter and maybe sliding this far will motivate him to succeed.
2. Chicago Bears No. 119, Round 4: D.J. Moore, CB, Vanderbilt
The only reason Moore slipped to the fourth round is because of his size (5'8", 192 pounds) – or lack thereof. If he were two inches taller and 10 pounds heavier, he would have been a second round pick and maybe the fourth corner taken overall in this draft. Moore has tremendous athleticism, good speed and is an aggressive player. Nathan Vasher has struggled the past two seasons for the Bears and I wouldn't be surprised if Moore challenges for the starting cornerback job opposite Peanut Tillman in training camp. If he doesn't start, he'll certainly see some time in nickel packages as a rookie.