Anthony Stalter vs. Ted Thompson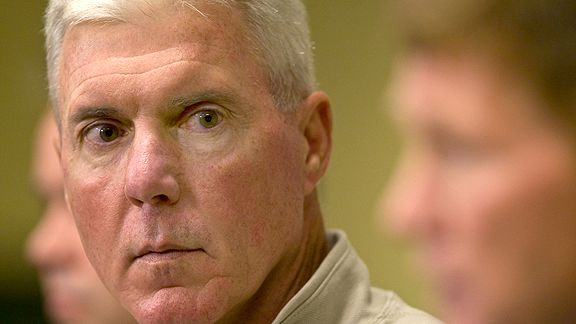 Regular readers know that Anthony Stalter is our NFL guru and that I'm a huge Packer fan. And since Green Bay's general manager, Ted Thompson, made one of the more questionable trades of the day — giving up a second round pick and two third round picks to move up and select USC linebacker Clay Matthews — we thought it would be interesting to have Anthony play general manager for those three picks and see if things would have turned out better had the Packers stood pat (and drafted on Anthony's recommendations). So Anthony is going to pick players at 2.09, 3.09 and 3.19 (the three picks Thompson gave up for Matthews) and see if he can do any better.
Thompson has a reputation for being one of the best general managers in the league on draft day, but Anthony sure didn't agree with how much the Packers gave up in order to land Matthews:
But to give up their second round pick and two third round selections was just too much – especially considering Matthews could be one of the more overrated prospects in this draft. Some believe that he's more of a bodybuilder posing as a football player (i.e. he looks great in workouts but could fizzle once he gets onto the field) and his character has come into question after it was made public that he and fellow USC teammates started a Facebook group called, "White Nation," in which they posted a picture of an African American baby in handcuffs and had a caption underneath that read, "arrest black babies before they become criminals." He claims it was just a joke and maybe he will turn out to be a versatile pro. But the trade and selection were very un-Ted Thompson-like for draft day.
We'll revisit this after each of the next three seasons (unless the winner becomes obvious before then) and see how the two strategies compare. In the interests of fairness, I asked Anthony to make his pick at 2.09 without thinking about who slipped to 3.09 or 3.19.
So, without further ado, Anthony's picks…
2.09 (No. 41): Clint Sintim, OLB, Virginia
Where he wound up: No. 45 to the Giants
Matthews would probably be off the board at this pick, which is why Thompson obviously felt the need to sacrifice three possible (I did say possible) starters to get him at No. 26. Outside linebacker is a major need for us and while it would be tempting to go with Florida State OLB/DE Everrette Brown at this pick given that he was regarded as a top 20 pick coming into the draft, he didn't play OLB in college and therefore his development would be slowed. We need an impact starter opposite Aaron Kampman and given that Sintim played in a 3-4 under Al Groh at Virginia, he could start as a rookie. Sintim was an absolute beast at Virginia, leading the nation in sacks as a senior and racking up 245 tackles in three seasons. He has excellent size at 6'2", 256-pounds, is tough and has good instincts. He's the type of player Green Bay fans could fall in love with because he isn't flashy and is an extremely hard worker. He already has tons of experience in the 3-4, so I would feel really good about him starting in his first year. (Side note: In my first two mock drafts, I had Sintim going in the first round, so I would have jumped at the chance to take him here in the second.)
3.09: Jamon Meredith, OT, South Carolina
Where he wound up: No. 162, Packers
If I'm truly pretending that I don't know how the rest of the draft would play out, I would have taken Meredith here. Obviously this looks like a horrible reach considering Thompson landed him in the fifth round, but again, I'm being honest. Considering we run the zone-blocking scheme in Green Bay, Meredith is an outstanding fit given that he's extremely agile, great on his feet and has excellent athleticism. The only reason he slipped in the actual draft is because he had some character and injury issues in college. Otherwise he was a second or third round pick, which is why I would have nabbed him here. I have to tip my cap to Thompson for landing him in the fifth round, because he really is a solid fit for the zone-blocking scheme Green Bay runs.
3.19: D.J. Moore, CB, Vanderbilt
Where he wound up: No. 119, Bears
As it turns out, Moore would have been a reach at No. 19 in the third round, but just like with the Meredith pick at 3.09, I wouldn't have known that. While cornerback isn't a huge need for us, I feel confident at this point in the draft that we've come a long way in addressing top need areas along the defensive line, at outside linebacker and offensive tackle. That said, Moore is one of the best players available and to me, would be great value here. Charles Woodson and Al Harris are 32 and 34, respectively, and while we have some nice talent on the roster in Tramon Williams and Will Blackmon, I could see Moore getting on the field in nickel and dime packages this season. The only reason he slipped this far is because he's 5'9". If he were two inches taller, he would have been long gone by this point given how athletic and fast he is. Forget the size – this kid can play.
Keep in mind, the Packers did get pick 5.26 as part of their trade with the Patriots, and they took Meredith with that pick. But since Anthony picked him at 3.09, we can remove him from consideration. To judge this trade, it's really Matthews versus Sintim and Moore. Obviously, we'll never know how each of these players would have performed in different environments, so all we have to go on is how much success each player had with the team that drafted him. Sintim joins a stacked Giants' LB corps so it may take a while to figure out which was the better draft.
We'll readdress this at some point around next year's draft, so be sure to set a reminder on your calendar to check back. After all, we need to know who's smarter — Anthony Stalter or Ted Thompson.