Fantasy Quick Hitters: Caddy, MBIII, Marshall and more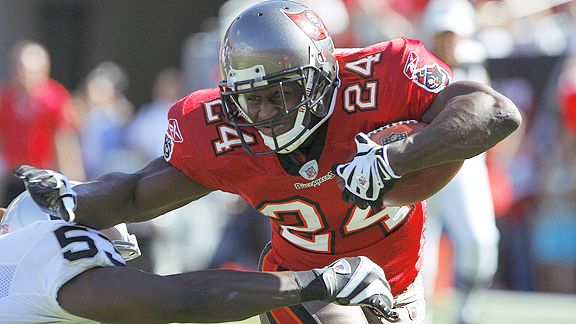 Bucs' OC Greg Olson wants Caddy to be the featured back. Williams has been productive, but he's injury-prone, and if the Bucs start giving him 25 touches a game, he's probably going to break down. This is bad news for Derrick Ward in the short term, but in the long term, it might be a good thing. Ward could be the primary ballcarrier to close the season.
Brandon Marshall seems to be happy again. It's amazing what a 4-0 start and a sick, game-winning TD catch will do for a guy. Marshall's talent is undeniable, and it seems like he and HC Josh McDaniels have put the ill will behind them and have found a way to work together. Marshall's upside is still limited somewhat by Kyle Orton (just ask Eddie Royal owners), but he has been productive of late and has worked his way back to being an every-week start in most formats.
Rashard Mendenhall should start this week. With Willie Parker likely out, look for another big game from Mendenhall as he faces the Lions' 20th-ranked rush defense.
MBIII is back at practice. The Cowboys face the Chiefs this week, so it's a nice matchup for the entire offense. Barber should be in most starting lineups, but Tashard Choice is likely to see a lot of work to keep Barber fresh. Choice has been productive, so there's no reason not to use him.
Frank Gore on track to return in Week 7. The 49ers have a bye next week, so it looks like Sunday may be the last week that Glen Coffee is startable. He has a nice matchup with the 25th-ranked Falcons' rush defense and should see plenty of work. Regardless, Gore owners should keep Coffee stashed as a handcuff.