Surprises and Busts: Trying to predict the unpredictable in fantasy football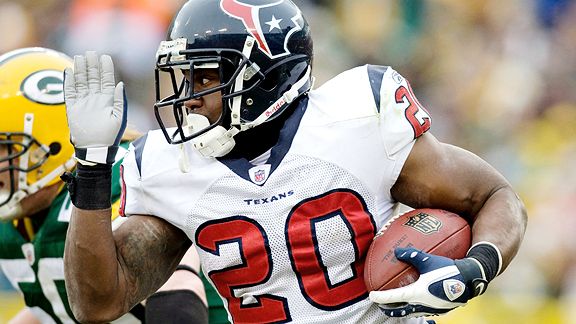 Most fantasy owners draft a running back in the first round and oftentimes their season depends on how that player fares. If he misses a few games with an injury and is bothered by it for a few more, his production will suffer and it will put his fantasy team in a tough spot. This can be offset if his owner is savvy enough to draft one of the "surprise" backs that inevitably crash the top 10 every season.
But how does one pluck one of these backs out of the middle rounds? Better yet, how can we avoid drafting an early round bust in the first place?
As a forewarning, this is not a tight article. I ponder, deliberate and meander as I go along. Trying to predict the future is nebulous at best and futile at worst, so please bear with me as I muddle my way through this topic.
Here's a list of the top RBs from 2008…
RB1 – Matt Forte (RB30)
RB2 – DeAngelo Williams (RB36)
RB3 – Maurice Jones-Drew (RB13)
RB4 – Thomas Jones (RB23)
RB5 – Brian Westbrook (RB3)
RB6 – Michael Turner (RB19)
RB7 – Adrian Peterson (RB2)
RB8 – Steve Slaton (RB67)
RB9 – Chris Johnson (RB40)
RB10 – LaDainian Tomlinson (RB1)
RB11 – Clinton Portis (RB8)
RB12 – Marshawn Lynch (RB9)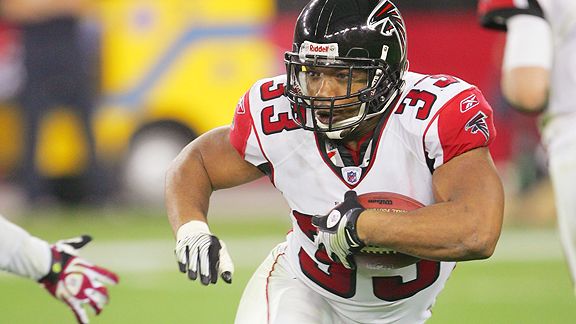 Michael Turner went on average in the very late third round, so that makes six backs that were drafted outside the first two rounds that made the top 12. Maurice Jones-Drew was a fringe first round pick, so players that were drafted in the first round finished in the top 12 about 50% of the time. Marion Barber (drafted RB7, finished RB13) and Frank Gore (drafted RB6, finished RB14) just missed the top 12. There were three first round "busts" – Joseph Addai, Larry Johnson and Willis McGahee – who finished outside the top 35. All three missed significant time due to injury. The final first round pick, Steven Jackson, finished as RB19 even though he missed four games due to injury.
What does this all mean? Good question…
Of the first 12 picks, eight finished in the top 20, and seven finished in the top 15. While that success rate certainly wouldn't qualify as a sure thing, it doesn't dispel the notion that fantasy owners should look to draft a running back in the first round. It's not like drafting a WR was any more rewarding last year. The top three receivers – Randy Moss, Terrell Owens and Reggie Wayne – finished 11th, 13th and 12th amongst wideouts, respectively. The top QB, Tom Brady, missed the entire season with an injury and the second QB off the board, Peyton Manning, finished as 2008's QB6.
Looking at the four middle- to late-round picks that made the top 12, we can draw some common themes. Five of the six are/were young. Thomas Jones had eight years in the league entering the 2008 season. The next most experienced player was Michael Turner, who had four years in the league. Four of the six were newcomers to their respective teams, with three rookies and Turner, who joined the Falcons after four seasons with the Chargers. Three entered the season as members of a committee — Williams split time with Jonathan Stewart, Chris Johnson shared carries with LenDale White and Steve Slaton emerged as the last man standing in Houston.
Now let's take a look at 2007…
RB1 – Brian Westbrook (RB8)
RB2 – LaDainian Tomlinson (RB1)
RB3 – Clinton Portis (RB16)
RB4 – Joseph Addai (RB6)
RB5 – Adrian Peterson (RB26)
RB6 – Jamal Lewis (RB27)
RB7 – Frank Gore (RB4)
RB8 – Marion Barber (RB24)
RB9 – Willis McGahee (RB13)
RB10 – Earnest Graham (RB??, undrafted)
RB11 – Maurice Jones-Drew (RB15)
RB12 – Reggie Bush (RB10)
There were four major surprises in the top 12 in 2007 – Peterson, Lewis, Barber and Graham. Peterson and Lewis were newcomers to their respective teams, while Barber and Graham each emerged from a RBBC as the main man. (Graham was actually the last man standing.) Portis was a semi-surprise, as he was coming off an injury-plagued 2006 and finished the season as RB3. The other seven top 12 players weren't that surprising, as they were all picked in the top 15.
Seven of the top 12 picks in 2007 could be considered disappointments. Steven Jackson (drafted RB2, finished RB15), Willie Parker (drafted RB7, finished RB20) and Ronnie Brown (drafted RB12, finished RB23) were minor disappointments, while Larry Johnson, Shaun Alexander, Rudi Johnson and Laurence Maroney all finished outside of the top 30. All four players missed significant time due to injury. LJ, Alexander and Johnson all had at least 622 carries during the previous two seasons.
WHAT TO MAKE OF ALL OF THIS
It's difficult to predict who is going to bust because usually underperformance stems from some sort of injury. Some fantasy football analysts argue that a heavy workload in previous seasons will eventually cause a breakdown, but a large number of carries also indicates dependability and consistency, which is why these players are being drafted this early in the first place.
LaDainian Tomlinson is 30 and has averaged 332 carries over his eight years in the league. Even though he showed some signs of breaking down in 2008 (with a very pedestrian 3.8 ypc), he still gained 1536 yards from scrimmage and scored 12 TD, finishing the season as RB10. Would you pass on him late in the first round?
Steven Jackson is only 26, but he has missed eight games over the past two seasons after a stellar 2006 campaign. He should bounce back, but he's also shown signs that he's injury-prone. Brian Westbrook, Frank Gore, Reggie Bush, Clinton Portis, Brandon Jacobs and Marion Barber are all first- or second-round guys that are injury concerns for one reason or another. Unfortunately, it's impossible to accurately predict which players are going to break down much less when.
So the best we can do is identify some possible surprises and hope they pan out, giving ourselves a safety net if one or more of our early picks have a disappointing season. We identified that youth, newcomer status, and starting the season in a RBBC were the top three factors of finding value in the middle to late rounds.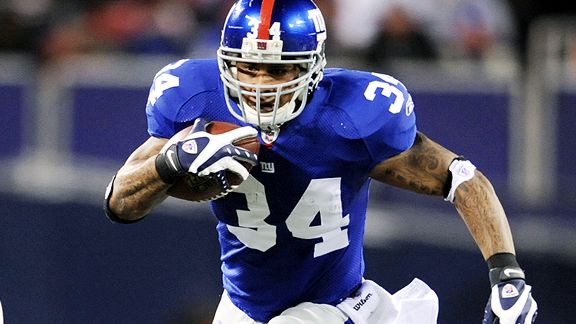 Right now, three names jump out at me: Derrick Ward (ADP: 5.03), Knowshon Moreno (4.10) and Chris Wells (6.01).
Ward was excellent when given the opportunity to start in place of an injured Brandon Jacobs in New York. He had 15+ carries eight times over the past two seasons, averaging 104 rushing yards in those games. He's also a very adept pass catcher, averaging 2.8 catches per game over the last two years. Most importantly, he's proven to be an efficient runner, averaging 4.8 ypc and 5.6 ypc in 2007 and 2008. He joins a semi-crowded backfield in Tampa that also includes Earnest Graham and Carnell Williams. But the Bucs gave Ward starter's money, so he should have first crack at the job. His chances are further boosted by Williams' knee injury and Graham's ability to play fullback.
At first glance, Moreno looks to face something of an uphill battle to get carries in Denver. But these aren't (or shouldn't be) your father's Broncos. Mike Shanahan is gone, and hopefully new coach Josh McDaniels didn't inherit Skeletor's joy of messing with his RB depth chart. Peyton Hillis, Correll Buckhalter, LaMont Jordan and Ryan Torain are also there, but Moreno is the most talented runner of the group. Here's an excerpt from Moreno's scouting report at FFToolbox…
Moreno is naturally blessed with a nice blend of size and speed, but it is his athleticism, vision, and ability to hit the hole that sets him apart as arguably the best running back in this year's draft class.
Moreover, the Broncos were 2nd in the league in yards per carry with 4.8. This was with Michael Pittman, Peyton Hillis and Selvin Young rushing the football. I expect Moreno will get starter's carries and finish in the top 15, maybe even the top 10.
Lastly, Chris "Beanie" Wells joins Tim Hightower in the Arizona backfield. What's worrisome about Wells is that the Cardinals have struggled with their ground game over the past several seasons. Last year, they averaged just 3.5 ypc, which was next to last in the league.
On the plus side, teams don't usually burn a first round pick on a running back unless they plan to use him. Clearly, the Cardinals did not feel strongly enough about Hightower to use their first pick to shore up another weakness, and they must have seen something in Wells that they really liked. This kind of favoritism usually leads to opportunity, and that's half the battle.
As the training camps wear on, we may be able to identify some of the other "surprise" prospects. Inevitably, a veteran will go down with an injury, or a rookie will make a splash. This might help us recognize who the next Earnest Graham or Chris Johnson will be.
Stay tuned.