2009 NFL Preview: #5 Indianapolis Colts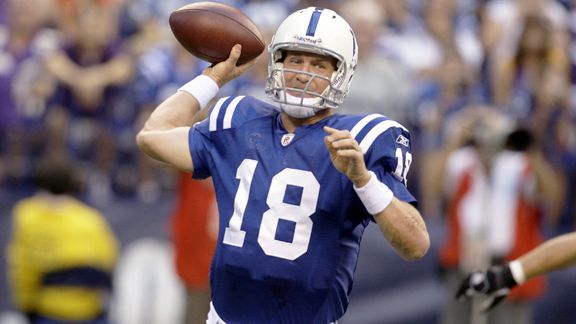 Check out all of our 2009 NFL team previews.
Offseason Additions: Adam Seward (LB/released in preseason).
Offseason Losses: Marvin Harrison (WR); Dominic Rhodes (RB); Keiwan Ratliff (CB); Josh Thomas (DE).
Player to Watch: Anthony Gonzalez, WR.
Now that longtime veteran Marvin Harrison is no longer in Indy, Gonzalez is going to get a ton of passes thrown his way in 2009. The former first round pick runs excellent routes and has displayed soft hands throughout his short career. He becomes a first-time starter in his third season, which is the perfect time because most pro receivers don't develop until year three. Playing across from Reggie Wayne and receiving pinpoint passes from Peyton Manning only adds to the excitement surrounding Gonzalez this season.
Team Strength: The Colts lost two important pieces to their offense when offensive coordinator Tom Moore and offensive line coach Howard Mudd retired in the offseason. Or at least so it seemed. Both were re-hired (they had to retire to protect their pensions) by Colts owner Jim Irsay as consultants, so while their titles are different, they'll essentially still have the same roles. The point is that the Colts will have the same potent offense that they've had for years, led of course by Manning. Wayne, Gonzalez and tight end Dallas Clark give Manning three excellent weapons to throw to and Peyton is so good at getting the ball out of his hands quickly that he could have five chipmunks blocking for him and he'd still throw 30-plus touchdowns. The key will be whether or not Joseph Addai can bounce back after rushing for only 544 yards last season behind a suspect run-blocking unit. Either way, rookie first rounder Donald Brown is going to get a fair amount of touches.
Potential Weakness: The health of safety Bob Sanders is constantly a concern. Sanders was held out of all on-field activities this offseason after having surgery on his knee and has already been ruled out for Week 1. In fact, he'll probably miss the first five or six games as he continues to rehab the injury. That's incredibly unfortunate news for the Colts, who depend on Sanders to be their primary run-stopper. If he isn't healthy, the entire unit suffers, even though new defensive coordinator Larry Coyer's scheme trusts that his defensive tackles will be stout against the run and less dependent on the safety position. Still, not having Sanders is a blow to Indy's defense.
Outlook: Many pundits believe the Colts will take a step back this year and they very well might. The defense was banged up in preseason and Sanders' injury puts a damper on Coyer's plan of making Indy more of an attacking-style defense. Another concern is that the Colts have to replace Tony Dungy, although something to keep in mind is that new head coach Jim Caldwell has been groomed for the position and not much changes between he and the well-liked Dungy. The Colts are still going to put up tons of points and Manning won't let this team fail. The running game has to improve, but the Colts are going to be in contention this season and should hold off the Titans and rising Texans.
2009 Prediction: First, AFC South.