2009 NFL Preview: #3 Philadelphia Eagles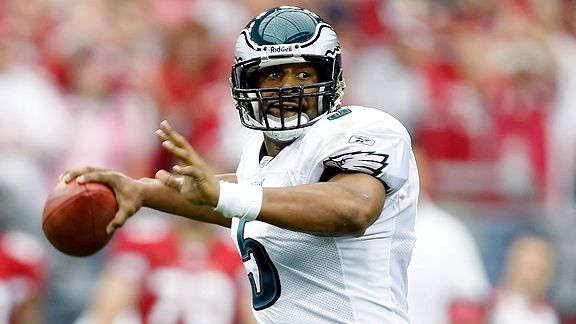 Check out all of our 2009 NFL team previews.
Offseason Additions: Jason Peters (OT); Stacy Andrews (OT); Michael Vick (QB); Leonard Weaver (FB); Sean Jones (S).
Offseason Losses: Brian Dawkins (S); Tra Thomas (OT); Jon Runyan (OT); L.J. Smith (TE); Correll Buckhalter (RB); Sean Considine (S).
Player to Watch: LeSean "Shady" McCoy, RB.
McCoy will get plenty of opportunities to be a playmaker in Philadelphia's offense and there's always a chance that Brian Westbrook will miss time throughout the season. McCoy has tremendous playmaking ability, is shifty, and is gaining valuable experience with Westbrook sidelined with knee and ankle injuries. But what has impressed his coaches and teammates the most so far has been his toughness and blitz-pick up ability. One of the knocks on him coming out of PITT was that he might not be able to survive running in between the tackles in the NFL. But so far, he is dispelling that notion and has been awfully impressive.
Team Strength: The Eagles got younger and better on the offensive line this offseason when they replaced tackles Tra Thomas and Jon Runyan with Jason Peters and Shawn Andrews. Peters was acquired via a trade with the Bills and is one of the more dominating left tackles in the game. Quarterback Donovan McNabb will have plenty of protection (even though Peters gave up a league-worst 11.5 sacks last season, which stemmed from a training camp holdout) and Westbrook and McCoy should have no problem running directly behind Peters' 6'4", 340-pound frame. Guard Stacy Andrews excels at getting under defensive linemen's pads and driving them straight back, while left guard Todd Herremans is vastly underrated.
Potential Weakness: The Eagles have limitations at receiver – what else is new? The team drafted Jeremy Maclin in the first round this year and expects the explosive, speedy wideout to pair up with DeSean Jackson to become a lethal 1-2 combination at receiver. But Maclin didn't play in a pro-style offense at Missouri and is going to need time to develop. That said, Jackson developed into a solid playmaker for McNabb last season and a team could do much worse than having speedster Kevin Curtis line up as the No. 2 wideout. So while receiver might still be one of the weaker positions for the Eagles, the players they do have aren't bad by any means. In fact, if Maclin can develop as fast as Jackson did in his rookie year, receiver could become a strength for Philly this season.
Outlook: The Eagles play in one of the toughest divisions in football, so their road to the playoffs won't be easy. But they might have the best overall talent in the NFC East from top to bottom after the additions they made this offseason. Peters dramatically upgrades the offensive line, while McCoy and Maclin give the Eagles' offense more playmakers. Michael Vick (once he returns from suspension) will give the offense an added wrinkle when he comes into the game in select packages. Sadly, defensive coordinator Jim Johnson lost his battle with cancer this offseason and will be replaced by former secondary coach Sean McDermott, who inherits an excellent defense. Losing veteran safety Brian Dawkins hurts, but Quintin Mikell is great in the box and is a solid run-stopper. Thanks to Brodrick Bunkley, Trent Cole, Mike Patterson and Victor Abiamiri, Philly has a fast, tenacious front four that fits perfectly with McDermott's (who learned under Johnson) blitz-happy approach. The Eagles love to have extra defensive backs on the field at all times so that when they blitz, their corners (like playmaker Asante Samuel) and safeties can make game-changing plays. The Eagles did receive a huge blow defensively when middle linebacker Stewart Bradley was lost for the season due to an injury he suffered in practice. Omar Gaither is a decent replacement, but Bradley was starting to emerge as a rising young star.
The Eagles are set up for a Super Bowl run, but they'll only go as far as McNabb takes them. He's surrounded by talent and the defense is built to win. Can Philly pick up where they left off last year and get to Miami?
2009 Prediction: First, NFC East.