2009 NFL Preview: #2 Pittsburgh Steelers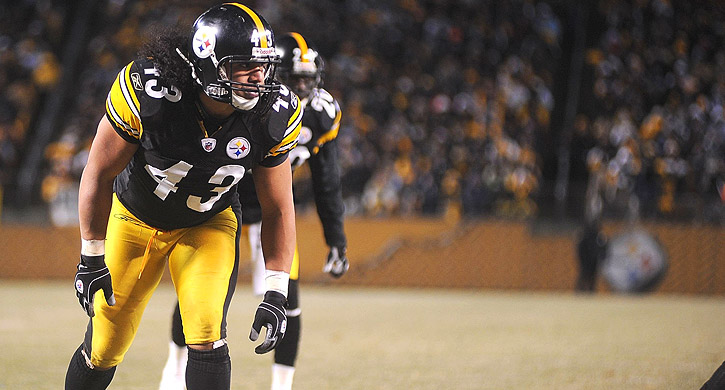 Check out all of our 2009 NFL team previews.
Offseason Additions: Shaun McDonald (WR); Keiwan Ratliff (CB).
Offseason Losses: Bryant McFadden (CB); Jamel White (RB); Larry Foote (LB); Nate Washington (WR); Byron Leftwich (QB), Anthony Smith (S).
Player to Watch: Lawrence Timmons, LB.
While defensive teammates Troy Polamalu, James Harrison, James Farrior, LaMarr Woodley, Aaron Smith and Casey Hampton will receive more accolades heading into the season, Timmons will be one of the reasons why the Steelers will be even better defensively in 2009. Timmons replaces Larry Foote at the inside linebacker position next to Farrior and immediately provides an upgrade in the pass-rushing department. Foote was primarily used as a run-stopper on first and second downs, but Pittsburgh will make Timmons an every-down linebacker and exploit his speed and quickness in order to cause havoc in opponents' backfields. Timmons could become a star in the NFL very soon.
Team Strength: If the Steelers win the Super Bowl again this year, it'll be because they have one of the fastest and most ferocious defenses in the entire league. Pittsburgh returns 9 of its 11 starters on the defensive side of the ball this year and at least one of the new starters (Timmons) is better than the player he's replacing (Foote). Polamalu continues to be the backbone of the Steelers' defense, although he wouldn't nearly be as good as he is without the rest of his teammates executing their jobs to perfection. The heat-seeking missile posing as a NFL safety gets to roam around the field at will and use his excellent athletic ability because he knows that the 10 other guys will always be where they need to be. In turn, that allows defensive coordinator Dick LeBeau to draw up schemes that constantly suffocate opponents' running games and get consistent pressure on the quarterback. From Poloamalu and Ike Taylor, to Harrison, Woodley and Farrior, to Smith, Hampton and Brett Keisel, the Steelers defense is the most star-studded unit in the league.
Potential Weakness: Not many people realize that the Steelers won the Super Bowl last year despite having the 23rd overall rushing game. Willie Parker gained only 791 yards last year and a measly 3.8 yards per carry and part of that was because the Steelers' offensive line didn't gel until late in the season. Parker needs to stay fresh throughout the year and in order to do that, 2008 first round pick Rashard Mendenhall needs to return to health after breaking his shoulder in Week 4 last year. If Mendenhall can cash in on some of the ability that made him a first round prospect, then the Steelers are going to have a decent 1-2 punch in their backfield and their weakness will actually turn out to be a strength.
Outlook: Besides the play of their outstanding defense, the main reason the Steelers won the Super Bowl last year was because their offensive line gelled. The unit was viewed as a potential weakness earlier in the season and it wasn't until it became a cohesive unit that Pittsburgh reached its full potential. Now it appears that the Steelers don't have any weaknesses, outside of maybe a running game that fell flat last season. But this team doesn't even have to have a dominating rushing attack to get back to the Super Bowl, because as long as quarterback Ben Roethlisberger stays healthy, then he's going to put the Steelers on his shoulders and deliver in the clutch like he has so many times before.
The Patriots, Chargers, Colts, Ravens and Titans all have reason to believe that they'll emerge in a tough conference and make an appearance in Miami. But the defending champs are improved and barring injury, they're going to be incredibly tough to beat come January, especially if they can nab home field advantage.
2009 Prediction: First, AFC North.