2009 NFL Preview: #4 San Diego Chargers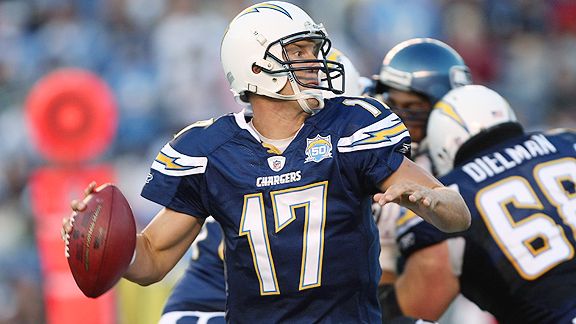 Check out all of our 2009 NFL team previews.
Offseason Additions: Kevin Burnett (LB).
Offseason Losses: Igor Olshansky (DE); Mike Goff (G); Jeremy Newberry (C).
Player to Watch: Vincent Jackson, WR.
Once thought of as a player that would never reach his full potential, Jackson is a star in the making after hauling in 59 receptions for 1,098 yards and seven touchdowns last season. Built like a body builder, Jackson has drawn comparisons to the Cardinals' Larry Fitzgerald because of his size (6'5", 230 pounds) and athletic ability. He gives quarterback Philip Rivers a legit deep threat in the passing game.
Team Strength: After excelling in the pass-rushing area during their deep playoff run in 2007, the Chargers struggled to get after the quarterback last year. Now that linebacker Shawne Merriman is back after missing virtually all of last season following knee surgery, the Bolts can get back to terrorizing quarterbacks. The player happiest to see Merriman back is outside linebacker Shaun Phillips, who struggled with his teammate on the sidelines last year. And if Merriman is slow to recover or suffers a setback, first round pick Larry English will take his place after excelling as a pass rusher at Northern Illinois.
Potential Weakness: The Chargers secondary was brutal last year, so the unit will be their biggest question mark until it proves it can get back to its '07 form. A hip injury exposed Antonio Cromartie last year and after intercepting 10 passes the season prior, he made a fine whipping boy for opposing quarterbacks last year. Strong safety is also a major concern, as Clinton Hart battled a broken hand as he was repeatedly toasted in coverage. The good news is that if Cromartie can rebound, the secondary will be in good shape because left cornerback Quentin Jammer and free safety Eric Weddle are both returning. The aptly named Jammer excels in bump-and-run coverage and Weddle has emerged as a versatile playmaker in his short career, racking up 125 tackles, a sack and an interception last season.
Outlook: The Chargers have the easiest road to the playoffs of any team in the AFC since they play in the horrible West. But besides that, this is a solid overall team and one that will contend for the Super Bowl this season. Rivers is coming off a fantastic season and will once again lead a pass-first offense. Jackson and tight end Antonio Gates are excellent weapons for Rivers to throw to, as are running backs LaDainian Tomlinson and Darren Sproles. Speaking of Tomlinson, LT is no longer the back he used to be, but that doesn't mean he's washed up like some are suggesting. He still finished fourth in the AFC in rushing and will get plenty of rest with the explosive Sproles ready to spell him at a moments notice. The offensive line must give a better run-blocking effort, however, or else the backs won't be nearly as productive as they can be. Defensively, as long as the secondary bounces back and Merriman can return to health, there's a good chance that the Bolts will return to their '07 form when they were knocking on the door of the Super Bowl.
They'll make the playoffs and they might even be the No. 1 seed given how easy their schedule is. But can the Chargers get past the Steelers and Patriots? If they get home field advantage throughout, don't be shocked if San Diego winds up in Miami this year.
2009 Prediction: First, AFC West.