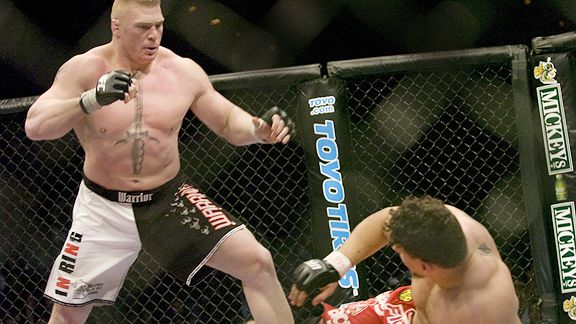 The Ultimate Fighting Championship celebrates a monumental landmark tonight with UFC 100. To celebrate the 100th Pay Per View show for the Mixed-Martial Arts company, the UFC has put together a stacked feature card headlined by three main-event caliber fights. Overall the main card has five fights, including two championship bouts. The show takes places from the Mandalay Bay Events Center in Las Vegas at 10 p.m. ET. Here are my predictions for the main card bouts.
Heavyweight Championship (265 pounds): Champion Brock Lesnar (3-1) vs. Frank Mir (12-3) – This fight is tough to call. Mir one the previous meeting at UFC 81 in February of 2008, but since, both fighters have vastly improved. Lesnar has been over-powering and shown solid boxing in his wins over Heath Herring and Randy Couture. Mir has been on a tear in his last three fights, picking up quick wins over Antoni Hardonk, Lesnar, and Minotaro Nogueira. Mir became the first to stop Nogueria back at UFC 92, which set up the rematch with Lesnar. In this fight, I think Mir's improved boxing will play a big factor. In the first meeting, Lesnar landed big punches early and pounced on Mir, nearly stopping the fight before Mir pulled of a knee-bar submission. In this fight I think Mir will be able to dictate where the fight goes more than he did in the first meeting. With Mir's composure and elite level submission ability, I see Mir surviving Lesnar's early onslaught and then successfully pulling off a submission. I take Mir by submission in round three.
Welterweight Championship (170 pounds): Georges St. Pierre (18-2) vs. Thiago Alves (15-3): This fight really to me is the best fight on the card and should be the most competitive and best display of all-around athleticism. St. Pierre has been on a tear, winning his last five in very convincing fashion. St. Pierre is thought to be one of the top pound-for-pound fighters in the world, but is facing a very tough test in Alves. Alves presents some new challenges that St. Pierre has never faced. First, Alves will be the larger fighter. Though weighing in at 170 pounds, by fight time, Alves is believed to weigh at least 190 pounds. Will the size advantage hurt GSP's chances to take Alves down? Second, Alves has tremendous leg kicks, which GSP has never dealt with in a fight. If Alves is able to land a series of kicks to GSP's lead leg, it could severely hurt St. Pierre's ability to use all of his weapons. St. Pierre is known for being light on his feet and quick, but with an injured leg, that speed and agility will be much slower. Overall, I think that Alves' weight cut will be a factor. He looked very depleted at the weigh ins and I don't suspect that he can fight five full rounds. He will need to end the fight early, and GSP possess the ability to avoid the big strike and fight out of tough positions. I think St. Pierre's championship pedigree carries him to a win by TKO in the fifth and final round.
Middleweight fight (185 pounds): Dan Henderson (24-7) vs. Michael Bisping (18-1): This is the battle between the Ultimate Fighter coaches from season nine with the winner likely getting a title shot against champion Anderson Silva in the future. Bisping is unbeaten at middleweight, having beaten Charles McCarthy, Jason Day, and Chris Leben, while Henderson is coming off wins over Rousimar Palhares and Rich Franklin. Bisping is a game fighter, but his biggest weakness has been takedown defense. In his only loss to Rashad Evans, Evans scored takedowns at will. Henderson is an Olympic caliber wrestler and should be able to score the takedowns when he needs them. I don't see this being a classic slugfest, but more of a control fight by Henderson. I will take Hendo by decision.
Welterweight fight (170 pounds): Jon Fitch (18-3) vs. Paulo Thiago (11-0): Thiago scored an unlikely knockout win over Josh Koscheck at UFC 95 and now gets a chance to push himself even higher up the UFC ranks with a win over Fitch. Thiago was losing to Koscheck prior to his knockout, and his likelihood of another upset is not good. Fitch has not been stopped in the UFC and Thiago can't hit harder than some of the men that have already hit Fitch. I see Fitch using his wrestling to keep the fight on the ground where he will either score late submission or ride out the decision win. To keep with his track record, I will take Fitch by decision.
Middleweight fight (185 pounds): Yoshihiro Akiyama (12-1) vs. Alan Belcher (14-5): Akiyama is making his UFC debut against Belcher. One of the keys in this fight is how Akiyama handles his first fight in the UFC. Many fighters that have established themselves outside of the UFC and stepped into the octagon have struggled, including Dennis Kang, who lost his UFC debut to none other than Belcher. Belcher is riding a mild winning streak of two fights. Belcher shows great potential and talent, yet has lost convincingly to lower-grade fighters like Kendall Grove and Jason Day. Belcher has the ability to win, but I think this fight is where his streak fizzles out. I see Akiyama outclassing him for a submission victory in the second round.
–Written by TSR MMA contributor Drew Ellis
Posted in: Mixed Martial Arts
Tags: Alan Belcher, Brock Lesnar, Brock Lesnar vs. Frank Mir, Dan Henderson, Dan Henderson vs. Michael Bisping, Frank Mir, Georges St. Pierre, Georges St. Pierre vs. Thiago Alves, Jon Fitch, Jon Fitch vs. Paulo Thiago, Michael Bisping, Paulo Thiago, Thiago Alves, Yoshihiro Akiyama vs. Alan Belcher, Yoshiro Akiyama