Cowboys minus T.O. = Perfect Harmony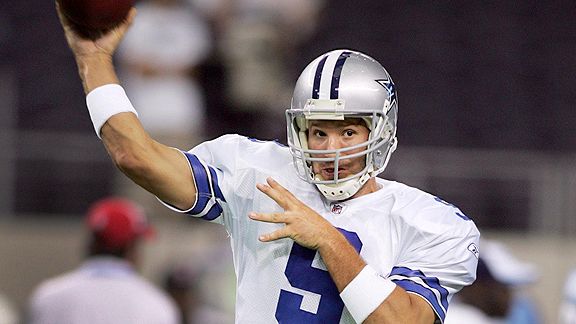 …or at least that formula worked for the first week of the 2009 season, as the Cowboys defeated the Bucs 34-21 in Tampa on Sunday.
Dallas had concerns about the chemistry between quarterback Tony Romo and receiver Roy Williams entering the season. After releasing Terrell Owens in the offseason, the Cowboys were praying that Romo and Williams (whom the team acquired from Detroit in exchange for a first round pick last season) would develop a connection.
The Cowboys' fears about the tandem were quelled early in the game on Sunday when Romo connected with Williams twice for 20 yards during a nine-play, 31-yard dive that ended with a Nick Folk 51-yard field goal. Romo also found Williams on a beautiful 66-yard touchdown pass early in the second half to give Dallas a 20-7 lead.
On the day, Romo finished with 353 yards on 16 of 27 passing and three touchdowns, while Williams caught three passes for 86 yards and a TD. Patrick Crayton had a productive day as well, as he hauled in four passes for 135 yards and also caught an 80-yard touchdown pass from Romo early in the fourth.