The Bears have yet to hire coordinators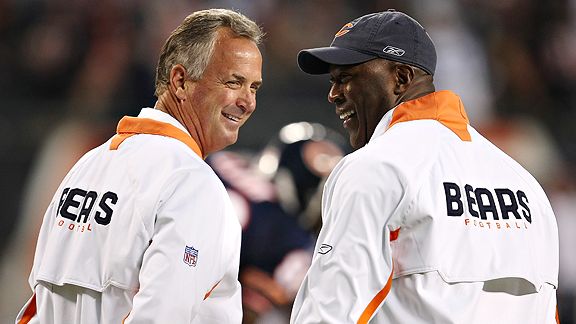 Here's a disturbing nugget of truth for Chicago fans: It's January 21 and the Bears still don't have an offensive or defensive coordinator.
On January 5, the Bears fired offensive coordinator Ron Turner and dismissed rumors that assistant Rod Marinelli would be named the new defensive coordinator. But it's been over two weeks now and the team has yet to find a coordinator for either side of the ball.
It's not like the Bears haven't been trying. They offered former Bills' interim head coach Perry Fewell a contract, but he turned them down and accepted the Giants' defensive coordinator job. With few reliable candidates left on the market, there's a good chance that the Bears will re-visit the idea of making Marinelli the D-coordinator.
On the offensive side of the ball, the Chicago Tribune reports that the Bears will interview Chargers' assistant head coach Rob Chudzinski for their vacant offensive coordinator position. Given his success in Cleveland (albeit, it was only one year), Chudzinski would be a solid choice as the team's next O-coordinator but the problem is that it seems like the Bears are flailing. Will Chudzinski maximize Jay Cutler's strengths or is Chicago's front office just trying to find anyone at this point?
The good news is that the team hired Mike Tice to become their new offensive line coach. While he failed as a head coach in Minnesota, Tice has also had success as an assistant and the Bears need someone with credibility to come in and revamp their underachieving O-line.
It'll be interesting to see who the Bears wind up with and whether or not their lack of direction so far will come back to haunt them in 2010. Of course, many Chicago fans believe that with Lovie Smith and Jerry Angelo running things, the Bears are doomed no matter what decisions they make.