Matt Jones a Bear? Don't count on it.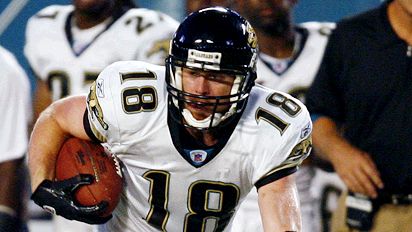 Although rumors persist that the Bears could be interested, Vaughn McClure of the Chicago Tribune writes that the team is unlikely to pursue troubled free agent wideout Matt Jones.
"He was a first-round draft pick and he is a very talented player," Angelo said, "but it's case by case. We're not quick to move on any player."

No doubt the Bears are concerned about Jones' checkered past, one that included an arrest for cocaine possession last July. Jones, 26, served a three-game league suspension after losing an appeal. After violating terms of a court-mandated drug program by consuming alcohol, he was arrested again and faced further disciplinary action for the 2009 season. But the league decided not to impose another suspension, although Jones was fined $50,000.

In recent years, the Bears cut ties with two players due to off-the-field concerns: running back Cedric Benson and defensive lineman Tank Johnson.

"Guys make mistakes, move on, and become better people," Angelo said. "Some guys have patterns of bad behavior and continue to have those patterns. I'm not saying that about Matt Jones. What I'm saying is we have to do our homework. And then you have to look at what value that person brings to your football team irrelevant of his off-the-field issues."
According to a report by ESPN.com, the NFL has already notified Jones that he will not be suspended for violating a court-mandated drug program in March. At 26 years old, Jones is the best receiver left on the market. But even though he's coming off a productive season (he caught 65 passes in 12 games last year for the Jags), he missed three games last year due to suspension and his motivation and focus have always been questioned.
I would be surprised if the Bears go after Jones given that they made little to no effort to try and sign Torry Holt this offseason before he agreed to terms with the Jaguars. I realize Holt is six years older than Jones is, but he's obviously less of a risk and he still has a productive season or two left in him.
So maybe Angelo already feels that his wide receiver corps is set with Devin Hester, Earl Bennett, Rashied Davis, Brandon Lloyd and rookies Juaquin Iglesias and Johnny Knox. Granted, none of those players will strike fear into an opposing defense outside of Hester's deep threat ability, but there still is some potential among the group and don't forget that Greg Olsen is the best receiver on this team. (He just happens to play tight end.)