Cutler reaches out to Plaxico Burress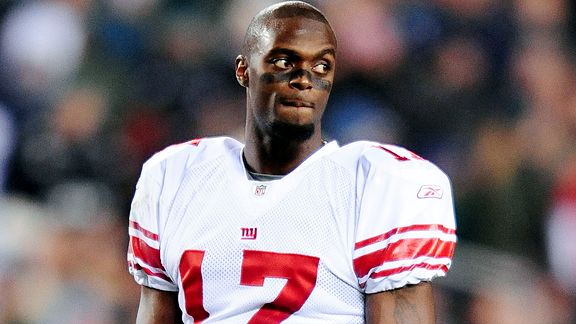 According to a story by the Chicago Tribune, new Bears' quarterback Jay Cutler has reached out to free agent Plaxico Burress.
Cutler has reached out to Burress, and agent Drew Rosenhaus recently said at least two teams are seriously interested in signing the former New York Giant. The Jets are likely one of them.

"Are we one of those two teams? No," Angelo said.

Burress, released by the Giants on April 3, has a June 15 hearing stemming from felony gun charges. He accidentally shot himself in the thigh in November at a Manhattan nightclub. He could face jail time and if not, at least a league suspension.

"He could help any team," Angelo said. "His play, his production speaks for itself. Everybody would love to have him on their team, including the New York Giants.

"But obviously, they are things that have to happen now for him to play in the league, get on with his life. There are a lot of hurdles to cross before you can really seriously sit here and use that as a viable option."
Cutler should back off and let Angelo do his job. He's the quarterback – not the GM.
The Bears' wideout situation looks bleak on paper, but it might not be as hopeless as some make it out to be. Devin Hester isn't a No. 1 receiver, but he's a legit deep threat and his speed will always create opportunities in the passing game. Angelo also drafted Juaquin Iglesias and Johnny Knox and don't forget that Greg Olsen is essentially another receiver at the tight end position. (He's arguably the Bears' best receiver.)
The wild card is 2008 third round pick Earl Bennett, whom Cutler had a great on-field relationship with at Vanderbilt. Bennett didn't catch a pass last year, but is expected to start over incumbent Rashied Davis and could blossom if he ever learns the playbook.
The bottom line is that the Bears have options and therefore signing Plax shouldn't be a priority. Plus, nobody knows how his legal situation will play out and he could still face a suspension even if he is allowed to play next season. A team would have to be awfully desperate to sign Plax and despite popular belief, I don't think the Bears fit that category.