Could the Bears have interest in Charles Rogers?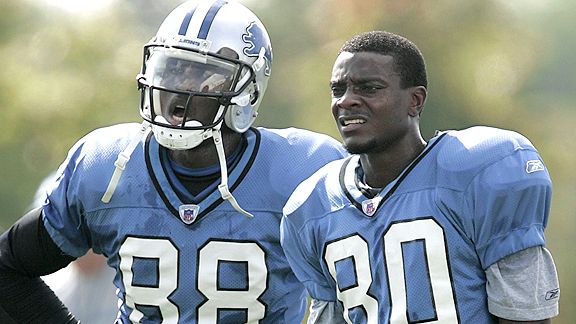 Both MLive.com and BleacherReport.com speculate that since the Bears are looking for receivers and Charles Rogers is looking to get back into the NFL after spending some time recently in the clink, that the two could be a match.
bleacherreport.com: One other option is a 28-year-old, former No. 2 overall pick, who measures up at 6'3″ and 207 pounds. Sounds great until you hear his name: Charles Rogers.
Clearly, there is at least one reason that no NFL team has even called him looking for a tryout. He is undoubtedly a step or two slower than the 4.28 40-yard dash he ran back at the NFL Combine, but seeing as how he would have the third-most career receptions on the current Bears' roster, it might make sense to at least give him a look.
Outside of giving him a quick tryout, the Bears shouldn't waste much time on Rogers. God might have given him outstanding athletic ability, but he also cursed Rogers with a peanut-sized brain.
This is the same guy who was arrested in 2008 and charged with assault and battery of a female friend. He also received jail time in March of this year after violating probation. When the Lions eventually gave him the boot (which should tell you something in and of itself) in 2006, he worked out for the Dolphins, Patriots, Bucs and Chiefs, but they all declined after coming away less than impressed by his auditions. He also reportedly brought some of his friends along to the workout in Tampa, which didn't sit well with then-Bucs head coach Jon Gruden.
If I'm the Bears, I'd be more interested in trying to develop Devin Hester, Earl Bennett and Juaquin Iglesias than trying to sign Rogers. I know the Bears' receivers won't exactly keep defensive coordinators up at night, but Rogers is done.