Houston stuns No. 5 Oklahoma State 45-35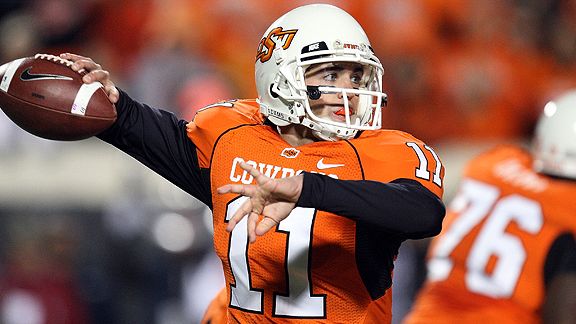 There's always an interesting dynamic that happens in sports when a team has high expectations entering a season after overachieving the year before.
Oklahoma State surprised a lot of people last year on its way to compiling a 9-3 record and making a trip to the Holiday Bowl (a 42-31 loss to Oregon). Entering this season, many pundits thought the Cowboys would contend in the Big 12 and those thoughts were confirmed after they waxed Georgia 24-10 last week.
But the Cowboys learned a huge lesson today: They're not going to sneak up on opponents like they did last year.
Led by incredible junior quarterback Case Keenum, unranked Houston went into Stillwater on Saturday and knocked off No. 5 Oklahoma State 45-35. Keenum was 32 of 47 passing for 367 yards, three touchdowns and one interception. He also rushed five times for 16 yards and a score.
While they still racked up 35 points and 436 total yards, Oklahoma State's offense struggled at times today and couldn't overcome costly penalties and four turnovers. Signal caller Zac Robinson was 18 of 31 for 240 yards and a touchdown, but was intercepted by Jamal Robinson, who took the gift 26 yards for a score with only 3:14 remaining in the game.
OK State obviously still has a chance to win the Big 12 considering neither Georgia nor Houston were conference opponents. (Sam Bradford's injury makes things a little more interesting in the conference as well.) But the Cowboys have issues on both sides of the ball, including being able to generate a consistent pass rush on defense and converting in the red zone offensively. OK State also lacked overall fundamentals today, which is why the Cowboys had so many dumb penalties and turned the ball over four times.
The Cowboys certainly aren't as bad as they played today against Houston. But considering the Cougars flat out took it to them, maybe Oklahoma State isn't as good as everyone thought either.