Dice-K blaming Red Sox for shoulder problems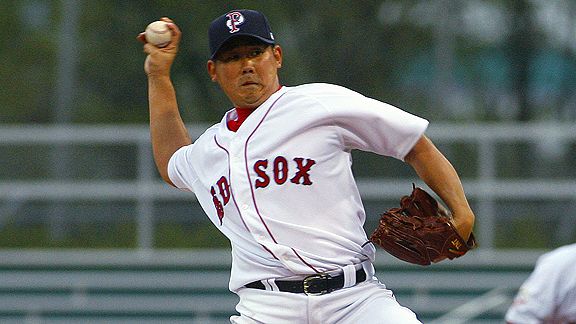 Daisuke Matsuzaka has gotten to the root of all of his shoulder woes this season: The Boston Red Sox…or so he indicated recently in an article for a Japanese newspaper.
In the story, Matsuzaka suggested that his effectiveness and health are being negatively impacted by the training techniques of the team. He blamed his current predicament on an inability by the club to account for the needs of Japanese pitchers, and suggested that he was ready to take a stand in an effort to return to the practices that he followed before coming to Major League Baseball.

The Red Sox consistently have cited the World Baseball Classic as the chief culprit for the pitcher's struggles and subsequent time on the sidelines. Matsuzaka, however, blames his season on the throwing program and training techniques that the Sox outlined for him once he came to the U.S.

"If I'm forced to continue to train in this environment, I may no longer be able to pitch like I did in Japan," Matsuzaka is quoted as saying in the article, which was written by Taeko Yoshii. "The only reason why I managed to win games during the first and second years (in the U.S.) was because I used the savings of the shoulder I built up in Japan. Since I came to the Major Leagues, I couldn't train in my own way, so now I've lost all those savings."

Nonetheless, Matsuzaka indicated that he may be less inclined to listen going forward. The pitcher cited the history of Japanese starters whose careers have endured steep declines (Hideo Nomo and Kaz Ishii come to mind) — often accompanied by injuries — after just a couple of years of effectiveness in the U.S. (It is, however, worth noting that Nomo rebounded from that decline to enjoy renewed success later in his career.) Because of such examples, Matsuzaka said that he is emboldened about the need to return to the training techniques with which he grew up.
Point: The Red Sox shelled out quite a lot of dough to bring Dice-K over from Japan and make him a major league pitcher. So if they want him eating blueberry Pop Tarts while hopping on one foot all while watching reruns of "I Love Lucy," then that's exactly what Dice-K should do. Boston is essentially Matsuzaka's boss, so he needs to meet them half way and work something out. And I think it was a little childish of him to run off to a Japanese newspaper bitching and crying about the Red Sox training procedures when he's making that much money.
Counterpoint: Players know their bodies more than teams do, so if Dice-K thinks that eating the cinnamon Pop Tarts while hopping on both feet all while watching reruns of "Alf" make for a better training program, then Boston should step aside and let him do what's comfortable for him. After all, if the Sox don't want him to wind up like Hideki Irabu, then it would behoove them to allow Matsuzaka to perform the methods that made him so successful in Japan and the first couple years in the U.S.
I don't think either argument is wrong, but one thing is for sure: the Red Sox have a problem here. Dice-K has been filthy atrocious this season and can't stay healthy. If he starts closing his eyes and plugging his ears while stomping around his bedroom whenever Boston tries to reason with him, then the club will have an even bigger problem than Dice-K's bloated ERA.