Dodgers acquire Garland, Thome for stretch run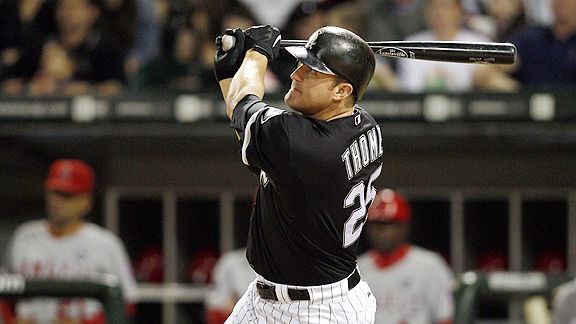 On the same day that the Giants signed starter Brad Penny and the Rockies added starter Jose Contreras, the Dodgers one-upped their division rivals by acquiring starter Jon Garland from the Diamondbacks and slugger Jim Thome from the White Sox.
In return, the White Sox will receive Minor League infielder Justin Fuller. The D-backs will receive a player to be named, who, according to several Dodgers, will be Tony Abreu, but Abreu needs to first clear waivers. Abreu once was considered a top infield prospect, but his progress was stalled by three years of injuries.

The right-handed Garland, 29, moves into a rotation that has struggled to find a fifth starter all season and has been further weakened by the loss of Hiroki Kuroda, who was hit on the head by a line drive. Garland is expected to take the place of knuckleball specialist Charlie Haeger, with Vicente Padilla holding the spot for Kuroda, who could return to the rotation as soon as Sunday.

Thome, 12th on the all-time list with 564 career home runs, will give the Dodgers the left-handed threat that Matt Stairs provides the Phillies, who beat the Dodgers with a home run off the bench in the playoffs last year.
Coupled with their addition of Ronnie Belliard over the weekend, the Dodgers have set themselves up for a World Series run with these two moves. After the Rockies got within two games of the division lead in the NL West last week, L.A. clearly isn't taking any chances as they head into the final month of the season. These moves fortify the back of the rotation, their bench, and their overall position depth.