Dice-K falls to 0-3 on the season, sets record for wild pitches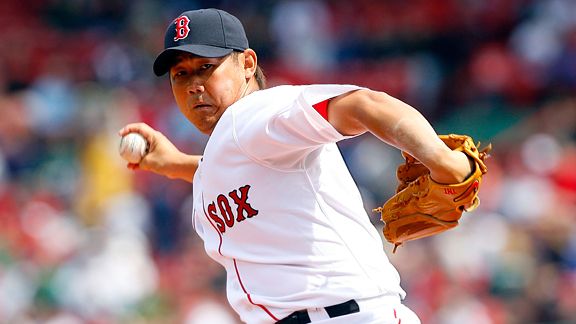 The 2009 season has not been kind so far to Red Sox starter Daisuke Matsuzaka, who dropped to 0-3 on the season after setting a record for wild pitches in a 4-2 loss to the Twins on Wednesday.
Daisuke Matsuzaka and the rest of the Red Sox righties tied a modern-day record with six wild pitches while Twins starter Kevin Slowey was the picture of control in Minnesota's 4-2 victory over Boston.

Matsuzaka (0-3) tied a franchise record set 80 years ago with four wild pitches, while relievers Manny Delcarmen and Justin Masterson also sent Kottaras scrambling. It was just the fifth time since 1900 that a team threw six wild pitches in a game.

Boston's slumping slugger, David Ortiz, batted sixth again and continued to look slow with the stick. He struck out on three pitches in his first at-bat, the last an 89 mph fastball that Slowey left up and over the middle of the plate.
It's amazing how some of the key components that helped Boston win a World Series just two seasons ago can't get it together this year. (Or are serving a 50-game suspension for another team.)
Big Papi is hitting a flabbergasting .193 with just one home run and 18 RBI, Dice-K is currently 0-3 with an eye-popping 8.82 ERA and 2.33 WHIP, and Jason Varitek is only hitting…okay well, Jason Varitek could never hit.
The good thing is that Kevin Youkilis is hitting almost .380 this year, Dustin Pedroia hasn't cooled off since winning the AL MVP Award last season and Jason Bay is currently playing out of his mind. Still, it'll be interesting to see if guys like Dice-K and Big Papi can turn it around at some point this year. You have to wonder if Big Papi is still hurt or if not having Manny in the lineup is killing his production. (Or as some people speculate, whether or not he's still on the juice.)
Comments Off on Dice-K falls to 0-3 on the season, sets record for wild pitches

Posted in: MLB
Tags: Big Papi, Boston Red Sox, Daisuke Matsuzaka, David Ortiz, David Ortiz average, David Ortiz slumping, Dice-K, Dice-K 0-3 record, Dice-K wild pitches record, Dustin Pedroia, Jason Varitek, Kevin Youkilis