Daily Six-Pack: NFL Preseason Saturday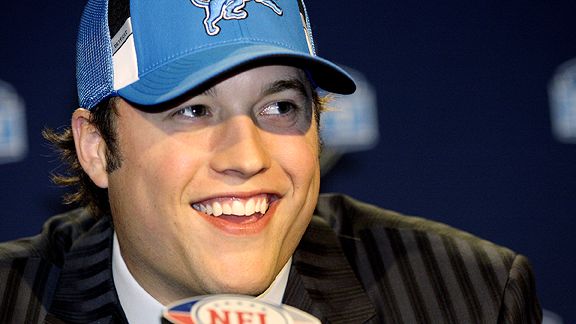 Six games highlight Saturday's preseason action in the NFL. Below are six things to keep an eye on tonight in the NFL.
1. It's the start of a new era in Detroit.
Word out of Lions camp is that rookie Matthew Stafford is way ahead of the curve when it comes to first-year quarterbacks. Even though Detroit would love to see veteran Daunte Culpepper take the majority of the snaps behind a brutal offensive line this season, it appears that Stafford has made quite the impression and it may be hard for the Lions to keep him on the sidelines. Today when the Lions host the Falcons in both teams' preseason opener, Detroit isn't going to overact to Stafford's performance either way. If he goes out and throws two interceptions in two series, they'll shrug it off as a learning experience. If he throws two touchdowns on his first two pass attempts, the team will chalk it up to preseason luck and hope the live game experience will be valuable in his development. The point is that it's only preseason and chances are, his performance won't be an indication either way of how well he'll fair in Detroit. The key is that the Lions can officially put their disastrous 2008 season behind them today, and Stafford represents the future.
2. Cutler makes his Bears' debut.
You'll be hard pressed to find a Chicagoan who isn't thinking playoffs (or even Super Bowl) after the Bears acquired quarterback Jay Cutler from the Broncos this offseason. You'll have to excuse Chicago fans for their budding enthusiasm because, you see, they've been waiting a long time for a quarterback of Cutler's ilk to pass through their great city. Sure, the Bears still don't have the greatest set of receivers and there are still question marks surrounding the offensive line, even after the offseason addition of Orlando Pace. But none of that will matter once Cutler lines up under center tonight against the Bills and riffles his first completion, because the Bears finally have their quarterback.
Posted in: NFL
Tags: Atlanta Falcons, Brady Quinn, Braylon Edwards, Buffalo Bills, Chicago Bears, Cleveland Browns, Daily Six-Pack NFL, Derek Anderson, Detroit Lions, Eric Mangini, Jay Cutler, Matt Hasselbeck, Matthew Stafford, Orlando Pace, San Diego Chargers, Seattle Seahawks, Shaun Rodgers