Daily Six-Pack: NFL Preseason Thursday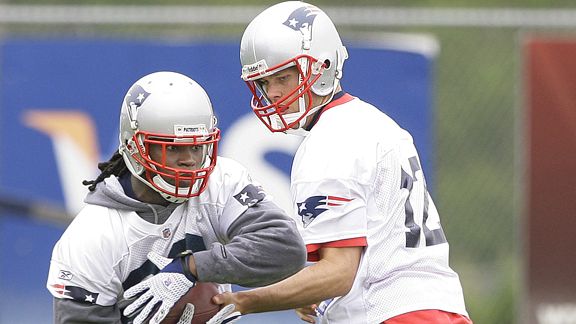 Four games are on the Week 1 NFL preseason schedule tonight and there are some interesting headlines to follow. Below are six quick-hit thoughts on tonight's action.
1. Brady returns to live action
The last time Tom Brady took a snap in a live NFL game, he tore both his MCL and ACL after suffering a season-ending hit in Week 1 of the 2008 season. Brady returns to action tonight and will start against the Eagles in Philadelphia. He probably won't get more than a series or two, but if everything goes well, it'll be yet another promising sign that Brady has recovered from the devastating knee injury that almost ruined his career.
2. Is Flacco in store for a major sophomore slump?
Reports out of Baltimore haven't been promising for second-year quarterback Joe Flacco, who has struggled in the passing game thus far in training camp. He apparently has struggled reading defenses, is missing open receivers and has thrown a high number of interceptions. The Ravens would like to open the playbook more in Flacco's second year, but if his struggles carry into the preseason, then the team might have to scale back his responsibilities and once again make him more of a game-manager like he was as a rookie.
3. How will the T.O.-less Cowboys look?
During the offseason, one of the main reasons the Cowboys cut toxic (but highly productive) receiver Terrell Owens was so that quarterback Tony Romo wouldn't have any distractions entering the 2009 season. Dallas wants Romo to step up and be more of a leader both in the locker room and on the field and it would appear that the 29-year-old's career is at a crossroads. One preseason game in Oakland isn't going to answer whether or not Romo is ready to become the leader that Dallas wants him to be, but it'll be interesting to see how well he gels with his receivers without T.O. commanding his attention. Apparently Romo and Roy Williams are finally starting to get their timing down.
4. Don't expect to see much of Big Ben
Ben Roethlisberger is coming off a tumultuous offseason, one in which he was accused of sexually assaulting a hotel employee in Las Vegas. Big Ben has also admitted that he has gotten off to a slow start in training camp because his arm isn't feeling strong yet. Even so, he isn't expected to play much in the preseason anyway, as the Steelers want to see more of second-year quarterback Dennis Dixon and whether or not he can unseat Charlie Batch as Roethlisberger's backup.
5. Will Russell continue to struggle in his development?
If this is supposed to be the year that JaMarcus Russell takes the next step and turns the corner as a quarterback, he's off to a lackluster start. He apparently showed up to camp in less than ideal physical condition and reportedly continues to struggle with consistency as a passer and timing with his receivers. His attitude remains a huge question mark as well, as does his leadership. With Jeff Garcia out with a calf injury, the Raiders are probably going to give Russell plenty of snaps this preseason but there's no guarantee that the extra work will help the former No. 1 overall pick's development.
6. How will the rookies fair?
There are a couple of intriguing rookies that will be worth keeping an eye on tonight including LeSean McCoy (Eagles), Darrius Heyward-Bey (Raiders) and Brian Orakpo (Redskins). McCoy has apparently been very impressive in camp, while Heyward-Bey has climbed into the Raiders' starting lineup and Orakpo has adjusted well to his new OLB position after playing DE at Texas.
Thursday Nigh NFL Preseason Schedule (all times are EST):
Patriots at Eagles, 7:30PM
Redskins at Ravens, 7:30PM
Cardinals at Steelers, 8:00PM ESPN
Cowboys at Raiders, 10:00PM
Posted in: NFL
Tags: Arizona Cardinals, Baltimore Ravens, Ben Roethlisberger, Daily Six-Pack NFL, Dallas Cowboys, Darrius Heyward-Bey, JaMarcus Russell, Joe Flacco, LeSean McCoy, New England Patriots, NFL, nfl network schedule, nfl preseason, NFL Preseason Previews, NFL Preseason rumors, nfl preseason tv schedule, nfl tv schedule, nfl tv schedule 2009, Oakland Raiders, Philadelphia Eagles, Pittsburgh Steelers, Roy Williams, Terrell Owens, Tom Brady, Tony Romo, Washington Redskins