2009 NHL Preview: Washington Capitals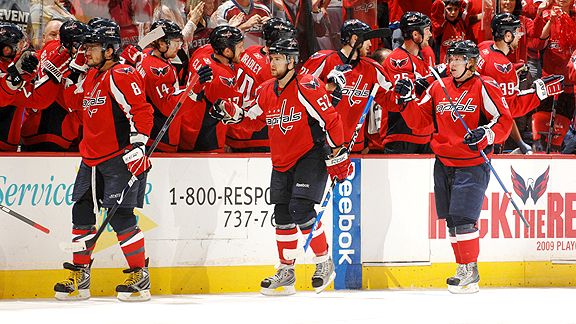 We've partnered with On Goal Analysis to bring you a team-by-team preview of the upcoming NHL season. (Just scroll down on the OGA website and hit the calendar.) Here is the preview for the Washington Capitals…
Team Play: ISSUE – Reloading… There is a not so quiet excitement building in Washington for the start of the new season. Optimism is evident at player, coach and management level, and in the fans who will attend the 41+ sold out games this season. Any frustrations at their Conference Semi-Finals departure last season are now replaced by thoughts of chalking it up to completing another step toward the ultimate goal of raising The Stanley Cup. This, ladies and gentlemen, is a hungry and capable squad.
The early Fox Sports depth chart for the Capitals indicates a No. 1 line of Ovechkin- Backstrom- Semin from left to right, and Laich- Morrison- Knuble on No. 2. We think it will actually be Ovechkin- Backstrom- Knuble No. 1 and Laich- Morrison- Semin as No. 2. The No. 1 pairing scored 7 G's and 7 A's in the pre-season, and No. 2 combined to chip in 3 G's and 8 A's. Fourteen and eleven points? In pre-season? We know – suspect matchups against a lot of guys trying to make it into the NHL. But any way you slice these two pairings, it serves as an indicator that they will put up some good numbers for this club. Of interest to Caps fans is the No. 3 and 4 lines. As of 28 September, Keith Aucoin and Alexandre Giroux were amongst the cuts, leaving Chris Bourque and Quintin Laing up with the squad for opening night. And there's also the Nylander Factor – as in not factored into any pre-season games + statements of deep desire to play + a $4.875M cap hit might just = a depth roster slot, especially due to injuries.
The top two pairings listed on defense are Green-Jurcina and Poti-Pothier. Based on last season's play, the top blue line pair projects at approximately 103 points playing a full 82-game schedule. That's with the big IF Mike Green produces 70+ points again this season. This is better than several forward trios on 3rd and 4th lines. You can forget the dearth of scoring in the pre-season for the first pair (a lone A for Green) as they saw limited game time. Line No. 2 was good for 1 G and 4 A's in September and should be able to be counted upon for about a point every other game. For those waiting with baited breath, Karl Alzner was again a victim of late training camp cuts on 28 September, but look for an injury call up if required.
Click here to read the rest of the preview (which includes the site's unique Playoff Qualifying Curve and fantasy information) at the On Goal Analysis site.