2009 NHL Preview: Tampa Bay Lightning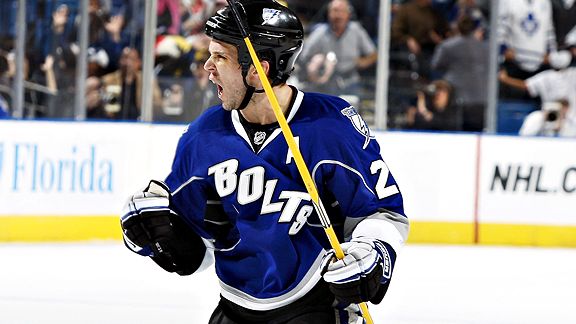 We've partnered with On Goal Analysis to bring you a team-by-team preview of the upcoming NHL season. (Just scroll down on the OGA website and hit the calendar.) Here is the preview for the Tampa Bay Lightning…
Team Play: ISSUE – Upgrading… There has been a great bit of transformation with the freedom Brian Lawton has received to retool this team over the summer. That change is most likely to produce improved results on the ice this season.
The notes from training camp indicate a No. 1 line of Tanguay–Lecavalier–Downie/Veilleux from left to right, and Malone–Stamkos–St.Louis in the No. 2 position. That's right, there's a RW problem in No. 1 line. The Steve Downie experiment initially didn't work but has now come back around full circle to try out again. The inability to find the RW and stick with somebody has disrupted their performance and has produced from all parties a total of 2 G's and 7 A's (with no points for Veilleux) and a return of Carter Ashton to Lethbridge of the WHL. Could Martin St. Louis slip back over there again? The issue would then be one of busting up the Malone-Stamkos-St.Louis line that has clicked very well as their 7 G's and 4 A's in pre-season attest. Once the Lightning gets these combos down, the Southeast Division will see a team coming at them with a top two pairing that is cause for alarm.
The top two pairings listed on defense according to Fox Sports' depth charts are Ohlund-Hedman and Ranger-Krajicek. In those four blue liners, you are looking at an average of 25-30 points per man if last season projected to 82 games is any kind of indicator of their 2009/10 output. Of note is that from that top four, Coach Tocchet cannot say enough good things of No. 1 draft choice Victor Hedman. After those four, Mezaros and Walker are projected on line No. 3, but Kurtis Foster is leading defensive scoring in the pre-season with 1 G and 3 A's making it a difficult decision not to keep him in the mix. (Coach Tocchet has indicated there is a 'logjam' at the defensive position and he is not kidding – besides the top seven mentioned above are Lashoff, Smaby and Wishart. Suffice it to say there will be no lack of defense back on the farm.) Lightning GM Lawton made his most strides in this area of the ice over the summer. Good blue line health this season is a must for solidifying this corps and stabilizing the team.
Click here to read the rest of the preview (which includes the site's unique Playoff Qualifying Curve and fantasy information) at the On Goal Analysis site.