2009 NHL Preview: St. Louis Blues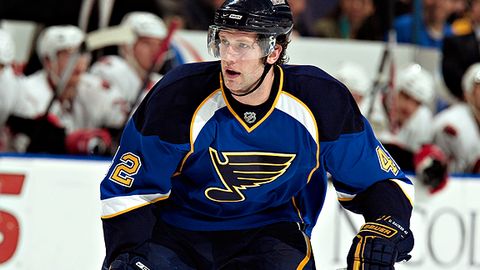 We've partnered with On Goal Analysis to bring you a team-by-team preview of the upcoming NHL season. (Just scroll down on the OGA website and hit the calendar.) Here is the preview for the St. Louis Blues…
Team Play: ISSUE – A Full Roster… There is excitement in the Blues camp this coming season. It is not only present in the fact that the team will open 2009/10 with a healthy roster. It is also manifest in players' excitement to simply get back on the ice. An example was the report from Jeremy Rutherford of the St. Louis Post-Dispatch and stltoday.com's "Morning Skate" indicating two full teams on the ice for an off-season scrimmage in St. Louis back on Tuesday, 8 September where participation was entirely voluntary.
Rutherford has also indicated matchups are firming up for the forward lines. The No. 1 line looks to be McDonald-Backes-Perron from left to right, and Kariya-Tkackuk-Boyes on No. 2. These players on those lines have combined for five and nine points respectively in the pre-season after only five games. But fans are also likely to see Berglund and T.J. Oshie together (for six pre-season points) one pairing deeper which means there is good scoring potential on three of the four offensive lines. Derek Armstrong, tied with Kariya and Alexander Steen as the leading point-getters in the pre-season, is also making it hard to ship him off the regular season starting squad. Armstrong and Jay McClement look to be potential depth players that will make this team's forward corps daunting.
Click here to read the rest of the preview (which includes the site's unique Playoff Qualifying Curve and fantasy information) at the On Goal Analysis site.