2009 NHL Preview: Toronto Maple Leafs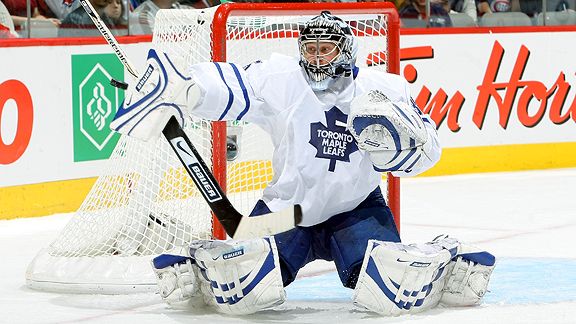 We've partnered with On Goal Analysis to bring you a team-by-team preview of the upcoming NHL season. (Just scroll down on the OGA website and hit the calendar.) Here is the preview for the Toronto Maple Leafs…
SUMMER SPLASH
* Brian Burke. since taking over the helm, is openly building a team that will, in the end, resemble his winning team in Anaheim. Big, mean, old-school hitting and hard-checking hockey is where Toronto is headed. And it does seem more appropriate here than in Anaheim. But the obvious question is whether or not it can succeed in Toronto (i.e. are the right personnel in place now?) as well as it did for the Ducks.
* The stated goal this season is to make the playoffs. The Leafs believe they have a good chance of doing just that. Whether or not they get there with the team currently assembled or after some mid-season moves remains to be seen. Without a doubt, though, some high-impact moves were made this summer that certainly put the opportunity of achieving their stated goal that much closer.
* IN For the Swim: Key new arrivals include, Phil Kessel (C), Francois Beauchemin (D), Mike Komisarek (D), Colton Orr (W), Garnet Exelby, Wayne Primeau (C/LW), Jonas Gustavsson (G), and Joey MacDonald (G).
* The additions of big and gritty players like Beauchemin, Komisarek, Orr and Exelby certainly advance the notions of bigger and meaner. Some nice names to imagine skating the ice along the blue line with Luke Schenn. Prized goalie from yon other side of the pond, Gustavsson could very well be the franchise goalie for the future. Kessel immediately becomes an impact player but will be quickly measured against high expectations. His response to the responsibilities on the score sheet may dictate team performance as the season unfolds.
Click here to read the rest of the preview (which includes the site's unique Playoff Qualifying Curve and fantasy information) at the On Goal Analysis site.