2009 NHL Preview: Vancouver Canucks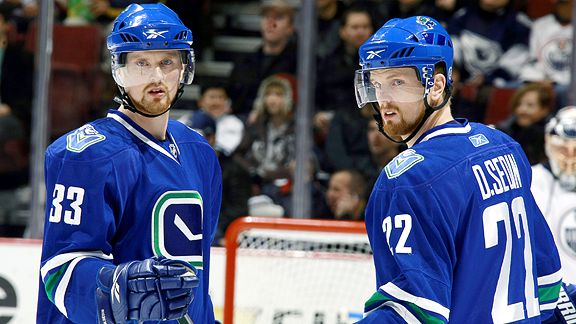 We've partnered with On Goal Analysis to bring you a team-by-team preview of the upcoming NHL season. (Just scroll down on the OGA website and hit the calendar.) Here is the preview for the Vancouver Canucks…
Team Play: ISSUE – A lack of excuses. Over the summer, Vancouver parted company with Mats Sundin, Taylor Pyatt, Mattias Ohlund and Jason LaBarbera. Those roster spots were filled (and then some) by Mikael Samuelsson, Mathieu Schnieder, Brad Lukowich, Christian Erhoff and Andrew Raycroft (and in all likelihood, Sergei Shirokov, as well). Overall, there's no denying the fact that the Canucks improved over the summer. They now face the enjoyable dilemma of having eight NHL-caliber defensemen, while only needing seven…though Schneider's recovery from shoulder surgery will allow Head Coach Alain Vigneault to postpone that d-man decision.
Among the forward corps, Samuelsson's 19 goals last season equal Sundin's and Pyatt's combined tallies. Meanwhile, rookie Sergei Shirokov has demonstrated a nose for the net in preseason, and should be good for 20+, provided he spends the entire 2009-10 campaign in Vancouver. Thus, putting biscuits in baskets shouldn't be an issue for the Canucks this season.
Much has been made of the Canucks' "epic odyssey" – a "fourteen-game road trip" made necessary by the presence of the 2010 Winter Olympics in Vancouver. Some have gone so far as to suggest the Canucks' season hinges on this road trip. That was my initial thought, too…until I analyzed the trip and saw that it's not as bad (or as "epic") as it's made out to be. Conclusion: No excuse.
The Vancouver Canucks enter the 2009-10 campaign an improved team over last season. Despite the improvements, expect the Canucks to battle the Calgary Flames all season long for supremacy in the Northwest, as the Flames have upgraded, too. Look for the loser of that battle to finish no lower than sixth in the West…and don't be surprised if these two clubs meet in the first round of the Stanley Cup Playoffs next April. Can you say, "fireworks"?
Click here to read the rest of the preview (which includes the site's unique Playoff Qualifying Curve and fantasy information) at the On Goal Analysis site.