2009 NFL Preview: #6 Baltimore Ravens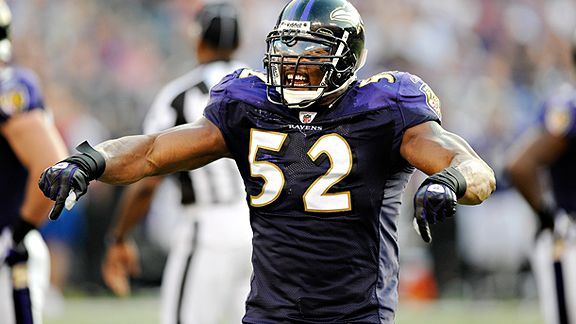 Check out all of our 2009 NFL team previews.
Offseason Additions: Matt Birk (C); L.J. Smith (TE); Domonique Foxworth (CB); John Beck (QB).
Offseason Losses: Bart Scott (LB); Jason Brown (C); Chris McAlister (CB); Jim Leonhard (S); Lorenzo Neal (FB).
Player to Watch: Ed Reed, S.
Some believe that Reed is one of the more overrated players in the league because he'll take too many chances attempting to make the big play and will often get burned because of it. He's also not the greatest in run support because he'll drag ballcarriers down as opposed to always running full speed and laying a thundering hit. But the bottom line is that Reed is the best playmaking safety in the league and he often masks mistakes (not his, but his teammates) with his tremendous speed and playmaking ability. Reed isn't overrated – he deserves all the accolades that he receives and he's one of the best – period.
Team Strength: Baltimore's successful running game starts up front. Massive left tackle Jared Gaither and mobile left guard Ben Grubbs are two rising starts along the Ravens' offensive line, one in which that improved this offseason with the addition of veteran center Matt Birk. The former Viking Birk is one of the smartest centers in the game and his pre-snap adjustments will help promising rookie right tackle Michael Oher make a smooth transition from college to the pros. Throw in a trio of capable starting running backs in Ray Rice, Le'Ron McClain and Willis McGahee and the Ravens will once again be near the top of the league in rushing.
Potential Weakness: It's no secret that the Ravens don't have many playmakers at the receiver position. When Derrick Mason announced his retirement this summer, panic set in and there was talk that Baltimore would put a trade package together for disgruntled Denver wideout Brandon Marshall. Panic set in…over a 35-year-old. That's not a knock on Mason because he has been one of the more productive receivers in the NFL over his career. But it just goes to show that the Ravens are desperate for playmakers at the wideout position if they're panicked about losing an aging veteran to retirement. Fortunately, Mason is back, but Mark Clayton is the other starter, and his ceiling has been met. And considering tight ends Todd Heap and L.J. Smith are both injury prone, quarterback Joe Flacco will go through another season without having a big play target to throw to in the passing game.
Outlook: As long as Flacco doesn't suffer a sophomore slump, there's no reason to think that the Ravens can't make a repeat appearance in the playoffs. Losing defensive coordinator Rex Ryan to New York (along with former starters Bart Scott and Jim Leonhard) hurts, but the pieces for an aggressive, attacking defense are still there. Ray Lewis proved last year that he still has plenty left in the tank, although his role will change a bit as the team shifts more towards a 4-3 front. The Ravens aren't thrilled with their other inside 'backers Tavares Gooden or Dannell Ellerbe, so it'll be important that Lewis continues to play at a top level. Of course, the key to this Ravens team is safety Ed Reed and a tenacious front seven, led by outside linebacker/defensive end Terrell Suggs. Suggs totaled eight sacks and two interceptions last year and was a thorn in the sides of many opposing quarterbacks. Kelly Gregg had microfracture surgery last year, but he's back and there's solid depth behind him in Justin Bannan. Haloti Ngata will once again command double-teams from his tackle position.
The two main concerns that this team has are what kind of an affect Ryan's departure will have on the defense and whether or not Flacco can fully succeed without a having a legit No. 1 receiver to work with. Otherwise, the defense and running game will keep this team in contention all season.
2009 Prediction: Second, AFC North.