2009 NFL Preview: #7 New York Giants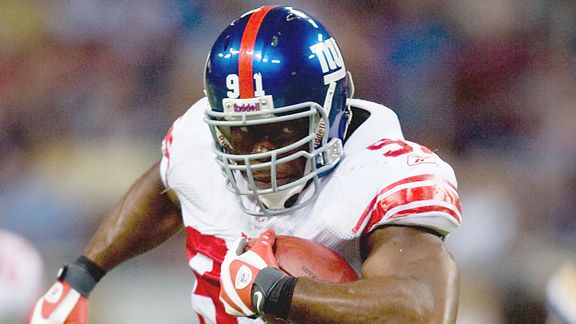 Check out all of our 2009 NFL team previews.
Offseason Additions: Chris Canty (DE); Michael Boley (LB); C.C. Brown (S); Rocky Bernard (DT).
Offseason Losses: Plaxico Burress (WR); Derrick Ward (RB); James Butler (S); Amani Toomer (WR); Reuben Droughns (RB); R.W. McQuarters (CB).
Player to Watch: Kenny Phillips, S.
The Giants stole Phillips at the end of the first round in the 2008 draft. Following his rookie season, he added 16 pounds in hopes that the added weight will make him a more ferocious hitter and given his solid coverage ability, the Giants could use him the same way the Ravens use Ed Reed in that Phillips will move around the field at will. While expectations should be tempered considering this is only his second year, he reportedly is already making strides as a leader on the Giants' defense and it appears that the sky is the limit in terms of his potential.
Team Strength: GM Jerry Reese has a philosophy that a team can never have enough pass rushers, so he spent this offseason bringing in free agents like Rocky Bernard and Chris Canty, both of whom can shoot the gap from their tackle positions. While Barry Cofield and Fred Robbins will remain the starters because of their run-stuffing abilities, Bernard and Canty will see plenty of action in a rotation and they add to an already excellent pass-rushing defensive line that also features ends Justin Tuck, Osi Umenyiora and Mathias Kiwanuka. Tuck wore down at the end of the year last season (as many Giants did) and Umenyiora didn't play after having season-ending knee surgery in preseason. So the Giants plan on using a three-man rotation at end to keep everybody fresh. Even Dave Tollefson will see a fair amount of playing time for a Giants team that will once again get after the quarterback.
Potential Weakness: With Plaxico Burress now gone, the Giants need someone to emerge as a viable deep threat for quarterback Eli Manning. Domenik Hixon and Steve Smith will open as the starters, but rookies Hakeem Nicks and Ramses Barden will get opportunities to unseat them, as will Mario Manningham and Sinorice Moss. Of the group, nobody is a legit No. 1 option and while all six wideouts are serviceable, none can match Burress' skill set. Barden has the size (he's 6'6"), speed and leaping ability to become a pretty good deep threat, but he's raw and needs to develop as a route runner. Nicks had a great finish to the preseason and was drafted in the first round, so he'll get plenty of opportunities to shine. But he's also raw and is currently stuck behind Hixon, Smith and Manningham on the depth chart. This group of receivers is underwhelming to say the least.
Outlook: The Giants are going to win games this year the same way they've won games the past two years: By running the football and playing good defense. Fortunately for them, those are two ingredients that breed success in the NFL. But the problem is that the G-Men don't have an imposing passing game and that's the very thing that hindered their success last year. Brandon Jacobs is a monster and the offensive line is excellent. But Manning needs someone else to throw to, because he can't work tight end Kevin Boss all the way up the field. That said, the defense is absolutely stacked from top to bottom and Reese brought in tons of quality depth in the offseason. The secondary is one of the more intriguing units on this team, thanks to Phillips and young corners Aaron Ross and Corey Webster.
The Giants are going to be competitive this year and Tom Coughlin isn't going to allow them to lose focus. This is a playoff team depending on how they do against the teams in the stacked NFC East. But the lack of a passing game is a concern and the G-Men could be in trouble against teams that find success against their stout defense.
2009 Prediction: Second, NFC East.