2009 NFL Preview: #10 Dallas Cowboys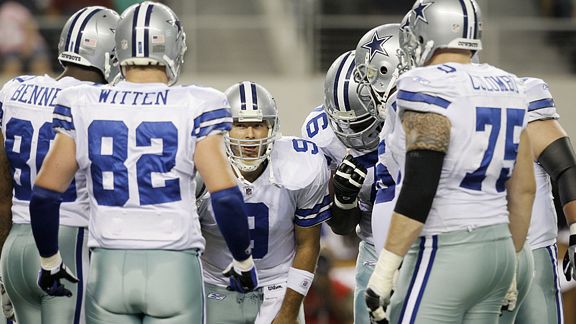 Check out all of our 2009 NFL team previews.
Offseason Additions: Igor Olshansky (DE); Keith Brooking (LB); Gerald Sensabaugh (S).
Offseason Losses: Terrell Owens (WR); Chris Canty (DE); Greg Ellis (DE); Zach Thomas (LB); Roy Williams (S).
Player to Watch: Tony Romo, QB.
Romo is at a crossroads in his career. He has the talent necessary to succeed and enough weapons around him to be great. But whether or not he takes the next step as a NFL quarterback is up to him. The Cowboys are hoping that with T.O. out of the picture, Romo can help this team cash in on its potential. If Romo elevates his game to the next level, the Cowboys can be as good as any team in the league. But if he continues to try and get by with only his athletic talent, he and the 'Boys will once again fall short. The floor is yours, Tony.
Team Strength: With Owens gone, offensive coordinator Jason Garrett will now be a run-first playcaller, which is good because the Cowboys are built to move the ball on the ground. They have a trio of capable backs in Marion Barber, Felix Jones and Tashard Choice, who all bring something different to the field. Barber is a pile-mover when healthy and can be tough to bring down in the fourth quarter after a defense has been worn down. Jones is a speedster with rare explosion and Choice has excellent quickness and lateral movement. Granted, Barber and Jones need to stay healthy, but if Garrett uses a successful rotation for his backs then everyone should stay on the field in '09. Fullback Deon Anderson is also a key component to the run game, not to mention an offensive line that features Flozell Adams, Marc Colombo, Andre Gurode and Leonard Davis, who all fit the mold of good-to-great run-blockers.
Potential Weakness: The coaching staff is considering the starting cornerback competition between Mike Jenkins and Orlando Scandrick a draw, which indicates that not even Wade Phillips and company know what to think about their secondary. The former fifth-rounder Scandrick is a better overall player at this point than the former first-rounder Jenkins, but Jenkins has better size and Scandrick is more equipped to take on receivers in the slot. Either way, the Cowboys will reportedly rotate the two corners at the beginning of the season, hoping to find a playmaker out of the pair. Top cornerback Terence Newman is solid in man-to-man coverage when he's healthy, but bone spurs limited his production last year and it affected the play of free safety Ken Hamlin. If Newman can't stay healthy, then the entire unit might struggle. At strong safety, the Cowboys were tired of Roy Williams getting abused in coverage so they signed free agent Gerald Sensabaugh, who is nothing special himself in pass coverage, but he's not somebody the coaching staff has to worry about blowing assignments like they did with Williams.
Outlook: Say what you will about Phillips as a head coach, but the man always brings the best out of his defenses. Opposing quarterbacks have to know where DeMarcus Ware is at all times and even then, Phillips does a nice job freeing up his best defender to get pressure. Ware is the most feared front seven player in football and he'll be counted on to teach raw youngster Anthony Spencer the art of pass rushing. Keith Brooking comes over from the Falcons after having already played in Phillips' defense in Atlanta, so there will be no learning curve for the declining, yet still effective veteran. The 'Boys also signed Igor Olshansky to fill the void left by Chris Canty, who signed with the Giants. Olshansky is well versed in the 3-4 from his days in San Diego.
Everyone wants to write Dallas off because they lost Owens. But this is still a very talented team and they're going to give opponents fits on Sundays. They'll become a team that runs to set up the pass, which could make them more dangerous in the long run. Nobody would be surprised if Dallas fizzled again at some point this year. But don't be surprised if the T.O.-less Cowboys make the playoffs either.
2009 Prediction: Third, NFC East.