USC-Ohio State to be decided on the ground?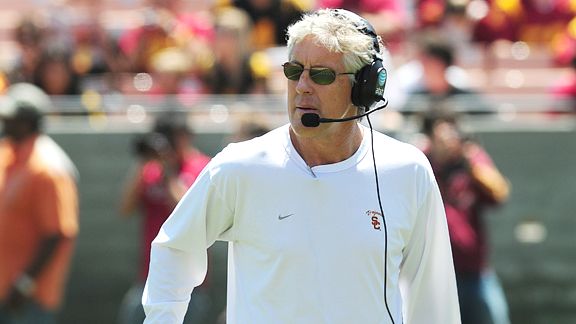 Dave Curtis of The Sporting News.com thinks so:
The Trojans rocked overmatched San Jose State for 342 rushing yards, an average of 7.6 yards per carry, and six touchdowns in their 56-3 victory. Buckeyes coach Jim Tressel raved about the USC offensive line, which cleared paths for all those gains.

…center Kristofer O'Dowd is expected to return from a dislocated kneecap. The move shifts fill-in center Jeff Byers back to guard, and gives USC one of the most talented and most experienced offensive lines in the country.
The backfield, though lacking Navy's deception and misdirection, has more speed and strength than the Mids. Joe McKnight, who's spent most of his Trojan career fighting injuries, emerged as USC's primary back and racked up 145 yards on 14 carries Saturday afternoon.

Ohio State, on the flip side, brings a defensive line capable of hanging with the Trojans. Veterans Doug Worthington, Cameron Heyward and Thaddeus Gibson have struggled in big games in the past but possess experience against top Big Ten teams and Texas in the Fiesta Bowl.

The veteran presence falls off after that.
Curtis brings up a good point. Everyone is focused on the two quarterbacks (OSU's Terrelle Pryor and USC frosh starter Matt Barkley) in this huge matchup, but it probably won't be an aerial show come Saturday night in Columbus. Both teams might try to wear each other down on the ground and then go for big strikes over top in the passing game.
Pete Carroll has to rely on his running game. He has a freshman under center playing in a hostile environment; he can't put everything on Barkley to win the game, and I highly doubt he will.