2009 NFL Preview: #11 New Orleans Saints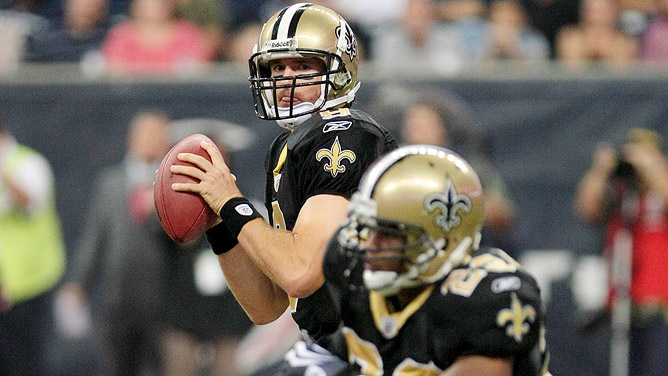 Check out all of our 2009 NFL team previews.
Offseason Additions: Paul Spicer (DE); Darren Sharper (S); Jabari Greer (CB); Heath Evans (FB); Nick Leckey (C).
Offseason Losses: Mike McKenzie (CB); Deuce McAllister (RB); Josh Bullocks (S).
Player to Watch: Pierre Thomas, RB.
The Saints are a passing team first and foremost and considering he'll share a workload with Reggie Bush, Thomas may not break the 1,000-yard rushing mark this season. But that doesn't mean Thomas isn't effective. He averaged 4.8 yards per carry last year and scored nine times on the ground. He was also proved to be a threat out of the backfield while hauling in 31 passes for 284 yards and three touchdowns. A sprained MCL has put a damper on the start of Thomas' season (he might miss the Saints' opener), but once he's healthy he could become a household name this season.
Team Strength: The Saints have one of the best offensive lines in the NFC, led by left tackle Jammal Brown and right guard Jahri Evans. Brown is a mauler in the run game and gets most of the credit for the team's success on offensive line, but Evans is New Orleans' best all-around lineman. He's strong, athletic and excels as a run-blocker. The rest of the line is comprised of right tackle Jon Stinchcomb, center Jonathan Goodwin and left guard Carl Nicks. As a unit, the Saints gave up a NFC-low in sacks last season with 13, which was one of the reasons quarterback Drew Brees had so much success. (On top of the fact that Brees makes quick decisions from the pocket.)
Potential Weakness: The secondary remains the Saints' biggest question mark heading into the season, although this is a unit that could eventually become a strength throughout the year. Adding savvy veteran Darren Sharper will only help in Roman Harper's development at safety, although it'll be a challenge given that Harper often struggles in coverage. Youngster Tracy Porter was having an excellent start to the 2008 season before having to undergo surgery to repair a dislocated wrist in October. As long as he's healthy, he should emerge as the Saints' top cornerback this season. Jabari Greer was signed in the offseason in hopes that he would fill the black hole that the Saints have had at right cornerback over the years. Rookie first round pick Malcolm Jenkins will see some time at nickel back, as will Randall Gay.
Outlook: The Saints are loaded offensively, although Brees continues to be the key to the team's success. Brees is outstanding at reading defenses and getting the ball out of his hand quickly. He's extremely comfortable in head coach Sean Payton's offense and runs it to perfection. He also has plenty of weapons to throw to in tight end Jeremy Shockey and receivers Marques Colston and Devery Henderson. If they both can stay healthy (which is a big question mark), Thomas and Bush form a nice 1-2 punch and Bush is a threat to take it to the house every time he gets his hands on the ball. Defensively, the linebacker corps of Jonathan Vilma, Scott Fujita and Scott Shanle will benefit from new defensive coordinator Gregg Williams' aggressive scheme, as well linemen Charles Grant, Sedrick Ellis and Will Smith. Altogether, New Orleans has an underrated front seven.
Defense has been the Achilles heel for the Saints over the years, most notably in the secondary. But as long as Porter is healthy, Greer can man the right corner position and Sharper can aid in Harper's development, the unit won't hold New Orleans back this season. The Saints could win a division title this year and if they do, they would be extremely dangerous in the playoffs with their explosive offense.
2009 Prediction: First, NFC South.