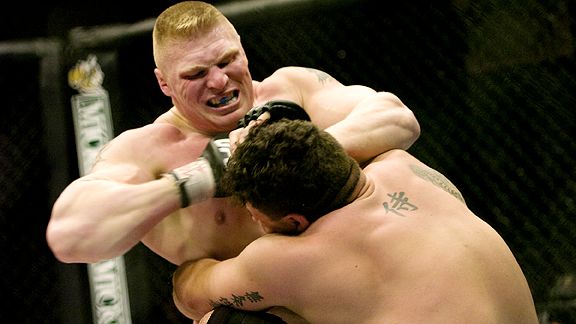 Here's a weekly rundown of MMA content from Ben Goldstein of CagePotato.com:
– Brock Lesnar, Georges St. Pierre, and Dan Henderson were dominant at UFC 100 — but Lesnar's post-fight antics made him a villain in the eyes of many fans.
– The UFC's new ring girl is hot, blonde, and all-natural.
– Kimbo Slice's "Ultimate Fighter" housemates should be thankful he wasn't allowed to bring a gun on the set.
– Fedor Emelianenko will probably never face Brock Lesnar in the UFC due to disagreements on contract terms. But that isn't stopping some bookmakers from offering bets on the non-existant fight.
– Gina Carano and Cris Cyborg visited New York to hype the biggest women's MMA match of all time. Sounds like a perfect time for Carano's scumbag ex-boyfriend to release that sex tape.
– Quinton "Rampage" Jackson is not a fan of either Rashad Evans or Muhammed "King Mo" Lawal.
– PRIDE legend Igor Vovchanchyn will return to action in September, while Jose Aldo and Mike Brown will get it on for the WEC featherweight belt in November.
– Floyd Mayweather Jr. says white people invented MMA because they couldn't compete in boxing. What a fascinating theory, Professor Money…
Posted in: Mixed Martial Arts
Tags: Brock Lesnar, Cris Cyborg, Dan Henderson, Fedor Emelianenko, Floyd Mayweather Jr MMA, Floyd Mayweather Jr., Georges St. Pierre, Gina Carano, Gina Carano sex tape, Igor Vovchanchyn, Jose Aldo, Kimbo Slice, Mike Brown, MMA News, MMA rumors, Muhammed "King Mo" Lawal, PRIDE, Quinton "Rampage" Jackson, Rashad Evans, The Ultimate Fighter, UFC rumors