2009 NBA Mock Draft Version 2.0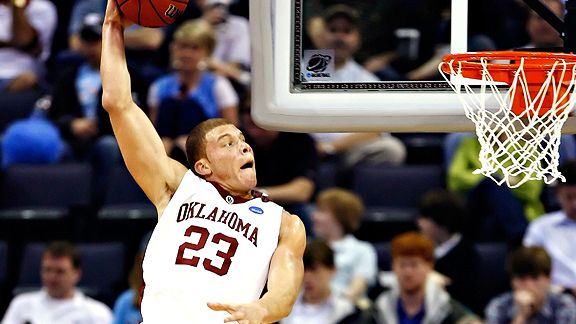 It has been about two weeks since I published my first mock draft, so it's a good time to check back in with all the news and rumors and take another stab.
Like I said in the intro of my first mock, it's tough for me to make predictions about what teams will do because I'm constantly thinking about what they should do. These are obviously two very different things.
For this go-around, I'm going to try something a little different. I've compiled the picks for four mock drafts from sites that I respect — ESPN (Chad Ford), Dime Magazine, DraftExpress and NBADraft.net — and then I'll provide my own picks taking their picks into account, to form some sort of consensus.
Let's get on with it…

#1 LOS ANGELES CLIPPERS
All signs seem to point to the Cliippers keeping this pick and taking Blake Griffin. They have a need at power forward — sorry, Zach Randolph is not the answer — and Griffin is the closest thing to a "sure bet" as there is in this draft. Ford says that the Clippers will find a way to get rid of Randolph and/or Chris Kaman, but Randolph's contract (two years, $33 million) will be unmovable for another year. Kaman is an effective center when healthy, so there's no reason the Clips can't move forward with Baron Davis, Eric Gordon, Al Thornton, Griffin and Kaman. Davis may understandably want to move on from this young team to play for a contender.
Pick: Griffin, PF
#2 MEMPHIS GRIZZLIES
The consensus says that Hasheem Thabeet is going to be the pick here, so I see no reason to change my pick. Ricky Rubio's name keeps coming up, but it sounds like he's not too excited about buying out his contract in Spain to play in Memphis, where two Spaniards — Pau Gasol and Juan Carlos Navarro — have had a bad time. The Grizzlies already have a center in Marc Gasol, who seems to be thriving there, but is he really a starting caliber center on a playoff team? The other issue is Mike Conley. If the Grizzlies go point guard here, they're effectively giving up on him, and it's probably too soon to make that call.
Pick: Thabeet, C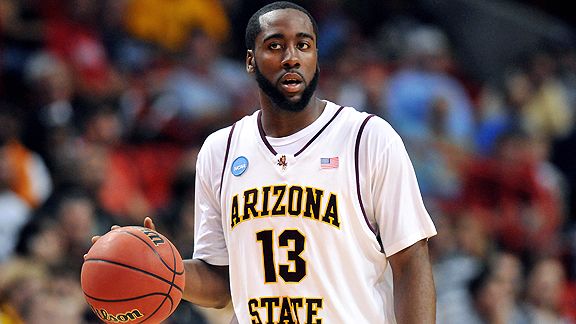 #3 OKLAHOMA CITY THUNDER
The buzz of late is that James Harden may be headed to OKC and the consensus bears that out. This pick is more about what the Thunder think of Russell Westbrook than it is about any player they might take here. Is he a point guard or an off guard? He definitely has a shoot-first mentality (as evidenced by this study that I did a few weeks back), and his A/TO ratio of 1.59 is unimpressive. But the Thunder seem to think he's a point guard, so Harden may very well be the pick here.
Pick: Harden, SG
#4 SACRAMENTO KINGS
The Kings could use a point guard, and according to the consensus, Ricky Rubio just fell into their proverbial laps. I'm not sure he's destined to be a star, but the scouts love his vision and overall feel for the game, and if he's able to improve his jumper, he could be a very good NBA point guard. It's interesting to note that Ford believes the Kings will take Jrue Holiday, though the other three mocks have him going (on average) with the #18 pick.
Pick: Rubio, PG
#5 WASHINGTON WIZARDS
If Harden is still there, he's a real possibility, and Dime seems to think that they'll go with Tyreke Evans to give Gilbert Arenas an upgrade in the backcourt (from DeShawn Stevenson). I think there's a great chance that the Wizards trade this pick as part of a deal to get some immediate help, as Jordan Hill is probably too much of a project for the Wizards to deal with at this point. They need to win now, and the #5 pick still holds a lot of value, even in this somewhat thin draft.
Pick: Hill, PF

#6 MINNESOTA TIMBERWOLVES
The T-Wolves face the same dilemma as the Thunder. Randy Foye doesn't look to have the same upside as Russell Westbrook, but they're both combo guards. The consensus says that Evans is the pick, but in his draft, Ford contradicts himself a bit by putting Evans ahead of Stephen Curry, who has really helped his draft stock with a great showing at the combine. With the success the Magic are having by surrounding Dwight Howard with a bunch of shooters (the ol' Hakeem Olajuwon-era model in Houston), I could see the T-Wolves going with the best shooter (Curry). He and Foye are both versatile enough to share the ball-handling duties. A pure point guard like Jonny Flynn is also a possibility.
Pick: Curry, PG
#7 GOLDEN STATE WARRIORS
The consensus says that the Warriors will take Brandon Jennings, but Ford's GM quiz indicates that the overall feeling on Flynn is much better, since he's more of a known quantity. But is Monta Ellis a point guard or an off guard? It would have been nice had he stayed off the moped so that the Warriors would have had a year to figure that out. Curry and Evans are also strong possibilities.
Pick: Flynn, PG
#8 NEW YORK KNICKS
The Knicks have been long linked to Curry, but with his fine showing in the combine, he might be gone by the time the Knicks pick at #8. How about sending Nate Robinson and the #8 pick to Washington for their #5 pick? (Just throwing it out there.) If Curry is gone and the Knicks keep their pick, look for Flynn, Jennings, Evans or Holiday to be their guy. Right now, Holiday's stock seems to be the highest, assuming Flynn goes #7.
Pick: Holiday, PG
#9 TORONTO RAPTORS
Tyreke Evans' camp seems certain that he's going in the top 10, but it would seem strange for the Raptors to draft a combo guard to play alongside Jose Calderon, who is one of the most efficient point guards in the league. DeMar DeRozan and DeJuan Blair are possibilities here, but I'll go with Evans, since three of the four mocks in the consensus have him drafted by this point.
Pick: Evans, G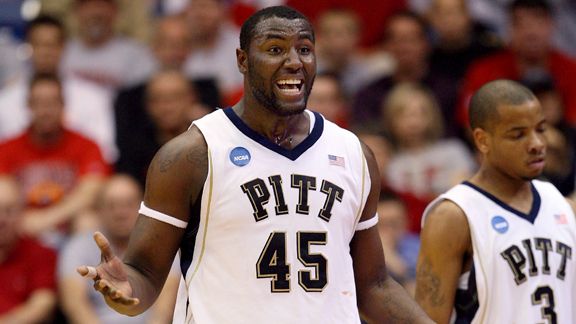 #10 MILWAUKEE BUCKS
Full disclosure: I'm a longtime Bucks fan (since the days of Sidney Moncrief and Bob Lanier), so it's hard to distance myself from this pick. Two of the mocks in the consensus have the Bucks selecting Jordan Hill, and I'd be happy with that pick. The other two have the Bucks taking point guards (Flynn and Evans). Since all three players are gone in my mock, I think Milwaukee will take DeJuan Blair to give the team some toughness alongside Andrew Bogut up front. There was some concern about his height, but he has a monster wingspan to give him the 10th highest overall reach in the draft. The Bucks have to decide if they're keeping Ramon Sessions and Charlie Villanueva, and regular readers know that I am sky high on Sessions. I think a lineup of Sessions, Michael Redd, Richard Jefferson, Blair/Mbah a Moute and Bogut, if healthy, puts the Bucks in the playoffs next season, assuming Blair doesn't turn into Robert "Tractor" Traylor, Jr. and pack on a bunch of pounds. DeMar DeRozan is a possibility as well.
Pick: Blair, PF
#11 NEW JERSEY NETS
The consensus says Blair, and the Nets could really use his toughness and inside scoring, but my beloved Bucks just took him. New Jersey is set at point guard and center with Devin Harris and Brook Lopez, so DeRozan, Gerald Henderson, James Johnson and Chase Budinger are all possibilities. Three of the four mocks have DeRozan gone by now, so let's go with the USC frosh.
Pick: DeRozan, GF
#12 CHARLOTTE BOBCATS
This is the first pick where the four mocks have the team taking four different players. I still think that Gerald Henderson has a ton of upside and will bring the consistent defense to make Larry Brown happy. If this guy can develop a consistent jumper, he will be a star.
Pick: Henderson, SG
#13 INDIANA PACERS
Again, there is no consensus. The Pacers are set at small forward with Danny Granger, but that's about it. Austin Daye has a lot of upside, but at 190 lbs, it's unclear whether or not he'll ever be able to play power forward, though Indiana could conceivably move Granger to the four. This is what makes Earl Clark interesting for the Pacers. He's a versatile forward who could could play the four and set Granger up with his fine passing. Plus, Rick Pitino thinks he's a good kid that needs a solid mentor, and Granger could be that guy. The Pacers could also go point guard here with Jeff Teague, Eric Maynor or Ty Lawson.
Pick: Clark, F
#14 PHOENIX SUNS
I think it's safe to say that the writing is on the wall that Amare Stoudemire is not long for Phoenix. He's already talking about his next destination (the Knicks), so the Suns may look to try to replace him with a power forward like James Johnson. The Suns could also go point guard with Maynor, Teague or Lawson, but that wouldn't send a very good message to Steve Nash, who has said all the right things the last few months. What the Suns do with this pick could tell us a lot about their long term plans.
Pick: J. Johnson, F
#15 DETROIT PISTONS
Again, no consensus here. The Pistons need more help up front than on the perimeter, but they could still go with a guard with this pick. Someone like Tyler Hansbrough could help right away (as a rotation player off the bench) or the Pistons could go with upside like Austin Daye or B.J. Mullens. They could also go point guard (Maynor, Teague or Lawson) to give Rodney Stuckey a backup or maybe eventually play him at the two if Rip Hamilton leaves. What the hell — let's go with Mullens. The Pistons' biggest need is center and here's a seven-footer with a ton of upside, and those don't grow on trees.
Pick: Mullens, C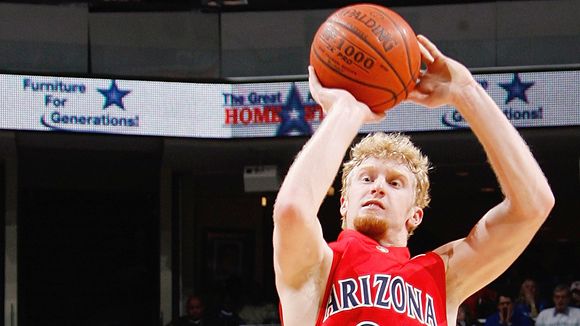 #16 CHICAGO BULLS
Two of the mocks have the Bulls going with Mullens here, which makes sense because Chicago needs some low post scoring. Aaron Gray has been disappointing and Joakim Noah isn't a post scorer. The team is set at point guard with Derrick Rose, has a nice swingman in Luol Deng and Noah can play power forward or center. They might go with a guy like Chase Budinger or Wayne Ellington in case they don't re-sign Ben Gordon. Hansbrough and James Johnson are possibilities, if available. Budinger's stock seems to be the highest of the bunch, so we'll go with him.
Pick: Budinger, GF
#17 PHILADELPHIA 76ERS
The Sixers could really use a true point guard. They might keep Andre Miller around for another season or two, but he's getting pretty long in the tooth and Louis Williams is more of a combo guard than a pure point. This is where the oft-mentioned triumvirate of Jeff Teague, Ty Lawson and Eric Maynor come in. Of the three, I think Lawson is the best fit with the Sixers, because Andre Iguodala doesn't have a great handle. According to Ford, Maynor and Teague are ranked higher at this point, but I don't know how the Sixers turn down Lawson's experience and toughness at this point in the draft.
Pick: Lawson, PG

#18 MINNESOTA TIMBERWOLVES
The more I think about the T-Wolves, the more I think that they might look at the depth at the point guard position in this draft and elect to go with another position at #6 and then grab whomever is left (Lawson, Maynor or Teague) here. The main problem with that theory is that good point guard play is getting more and more important, so you'd rather use a high pick there than on the wing. Assuming they do go Curry (or another PG) at #6, I think Austin Daye is a real possibility here. That would give the team a core of Curry, Foye, Daye, Love and Jefferson to build around. The mocks say that Mullens, Budinger and Terrance Williams are possibilities here as well. Two of the mocks don't even have Daye going in the first round, so we'll go with Williams since his stock seems to be higher, even though I think I'd rather have Sam Young on my team.
Pick: T. Williams, SF
#19 ATLANTA HAWKS
The Acie Law pick hasn't panned out, so the Hawks are still looking for a point guard to take over whenever Mike Bibby finally leaves. I still like Lawson the most, but Maynor and Teague are both interesting picks. Two of the mocks say Teague, but I think Maynor might be the better pro. He seems to be the better all around player.
Pick: Teague, PG
#20 UTAH JAZZ
Three mocks have the Jazz going with a power forward, with Hansbrough going in two. His measurements (specifically his reach and agility scores) were better than expected, and his non-stop motor and work ethic will keep him in the league for a long time. Besides, he just looks like a Jerry Sloan kind of guy, and with Carlos Boozer likely on the way out, the Jazz will need a power forward to backup Paul Millsap.
Pick: Hansbrough, PF
#21 NEW ORLEANS HORNETS
Two of the four mocks project the Hornets to take a point guard (Maynor or Patrick Mills), and while the team could use a backup for Chris Paul, finding a good wing or two is a much bigger priority. Julian Wright should be a good player, so a sharpshooting off guard might do the trick. Budinger would be good if he were available, but the Bulls took him at #16. How about Wayne Ellington, Austin Daye or Sam Young? I think Young could potentially be the Josh Howard of this draft, but Ellington had a great tournament and fills a need at off guard.
Pick: Ellington, SG
#22 DALLAS MAVERICKS
The Mavs could really use a point guard, which is why Maynor might be the pick here. Though it would be tempting to draft Austin Daye for his apparent upside. Maynor is probably too good to pass up here and the four mocks agree that he's a first round talent — Daye, not so much.
Pick: Maynor, PG
#23 SACRAMENTO KINGS
The Kings are another team that have both an early and a late pick, and they might pass on point guard at #4 if they think they can get their guy with this pick. Two of the mocks have the Kings taking Israel's Omri Casspi, but how about two-time Big East first teamer Sam Young? He's a great defender, a good spot up shooter and can finish at the rim. He needs to work on his ball handling and his off-the-dribble jumper, but he projects to be a James Posey-type player, and the Kings could use a few of those.
Pick: Young, SF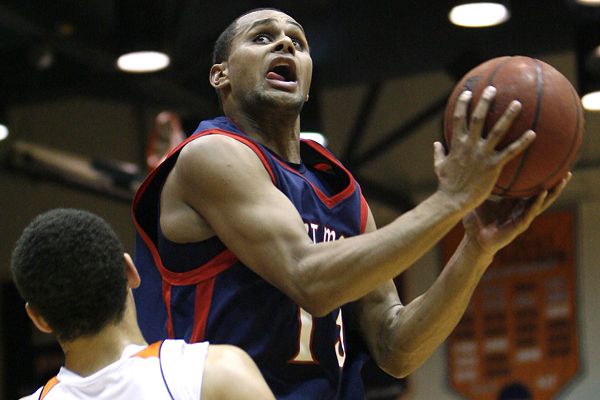 #24 PORTLAND TRAILBLAZERS
Two of the mocks have Portland drafting a point guard here (Lawson and Holiday), but I doubt either guy lasts this long. The position is definitely the biggest need for the Blazers, and while they are one of the teams rumored to be looking to move up in the draft, in this mock they have the option of drafting the speedster/sharpshooter (Patrick Mills) or a defensive stopper/floor general (Darren Collison). Mills stock seems to be higher, so we'll go with him, but UCLA guards have done pretty well of late; Jordan Farmar and Russell Westbrook both turned out to be better than expected.
Pick: Mills, PG
#25 OKLAHOMA CITY THUNDER
Assuming they go with Harden, a shooting guard, at #3, it likely means that they view Westbrook as their point guard of the future. Fine. What the Thunder needs now is shotblocking and rebounding. Center is more of a priority than power forward, but the pickings are slim at this point of the draft. Gani Lawal is a good rebounder, a capable scorer, and at just 20 years old, he has some upside.
Pick: Lawal, PF
#26 CHICAGO BULLS
This is when things get really dicey. Whether or not a player that is still on the board is a "first round talent" depends entirely on the teams drafting at the end of the round. The Bulls need some size and low post scoring and Georgetown's DaJuan Summers fits the bill.
Pick: Summers, PF
#27 MEMPHIS GRIZZLIES
If the Grizzlies go with Thabeet at #2 instead of a point guard, they may look to grab Collison here as a backup plan for Mike Conley if he doesn't pan out. They could also use a power forward, so Summers, Casspi, DeMarre Carroll, Taj Gibson, Derrick Brown, Damion James, Dante Cunningham, etc. are all options. I think they'll go with the proven Collison and try to add a power forward through free agency.
Pick: Collison, PG
#28 MINNESOTA TIMBERWOLVES
The T-Wolves went point guard at #6 and guard/forward at #18, so they will probably try to get some size here. Minny can afford to wait, so how about Israel's Omri Casspi? They can let him play overseas for a few years before bringing him over. All four mocks think he's a first round talent.
Pick: Casspi, F
#29 LOS ANGELES LAKERS
Two of the mocks have the Lakers taking Toney Douglas here. He's undersized for a shooting guard, but in the Lakers' system, he could play point because he won't have to handle the ball that much. He fits the L.A. mold — he can shoot and play good defense. The team is also likely to lose either Lamar Odom unless he's willing to take a big pay cut to stay, so they could go with a forward here as well.
Pick: Douglas, G
#30 CLEVELAND CAVALIERS
The Cavs' front line is in flux, and there are a number of power forward types available at this point in the draft. Cleveland found PF J.J. Hickson late in last year's first round, so maybe they'll try their luck with a center and draft Gonzaga's Josh Heytvelt who is a polished offensive player, but needs a little work fundamentally on the glass and defensively. He could be a weapon in the pick-and-roll with LeBron. Honestly, it's a crap shoot at this point.
Pick: Heytvelt, C
Posted in: NBA, NBA Draft, Rumors & Gossip
Tags: 2009 Mock Drafts, 2009 NBA Draft, 2009 NBA mock draft, Austin Daye, Austin Daye draft, B.J. Mullins, B.J. Mullins draft, Blake Griffin, Blake Griffin draft, Brandon Jennings, Brandon Jennings draft, Chase Budinger, Chase Budinger draft, consensus mock draft, DaJuan Summers, DaJuan Summers draft, Darren Collison, Darren Collison draft, DeJuan Blair, DeJuan Blair draft, DeMar DeRozan, DeMar DeRozan draft, Earl Clark, Earl Clark draft, Eric Maynor, Eric Maynor draft, Gani Lawal, Gani Lawal draft, Gerald Henderson, Gerald Henderson draft, Hasheem Thabeet, Hasheem Thabeet draft, James Harden, James Harden draft, James Johnson, James Johnson draft, Jeff Teague, Jeff Teague draft, John Paulsen, Jonny Flynn, Jonny Flynn draft, Jordan Hill, Jordan Hill draft, Jrue Holliday, Jrue Holliday draft, Marcus Thornton, Marcus Thornton draft, NBA Draft, NBA mock draft, Nick Calathes, Nick Calathes draft, Patrick Mills, Patrick Mills draft, Ricky Rubio, Ricky Rubio draft, Sam Young, Sam Young draft, Terrence Williams, Terrence Williams draft, Ty Lawson, Ty Lawson draft, Tyler Hansbrough, Tyler Hansbrough draft, Tyreke Evans, Tyreke Evans draft, Wayne Ellington, Wayne Ellington draft