2009 NBA Mock Draft Version 1.0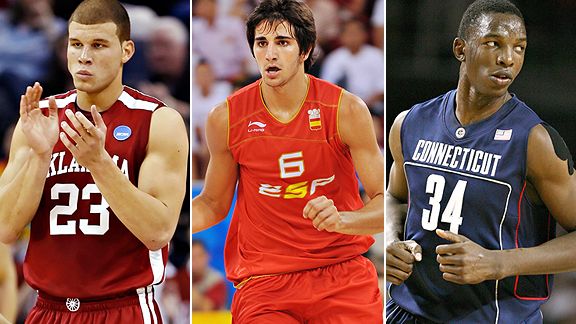 With the NBA Draft Lottery behind us, we now know the exact order of the first 14 picks. The Los Angeles Clippers hit paydirt when they won the right to draft Oklahoma forward Blake Griffin with the first overall pick. The Grizzlies moved up from #6 to #2, and the Thunder moved up one spot to pick #3. The big losers Tuesday night were Sacramento and Washington, who had the best and second-best shot at the top pick, but instead fell to #4 and #5, respectively.
Mock drafts are tough for me because I'm usually thinking about what teams should do instead of trying to predict what they will do. This mock will be more predictive, but if I disagree with a selection, I'll say so. Over the next few weeks, I'll update this mock to jive with the latest news from around the league. It's still very early in the process so things are very fluid. One mock has a player going #11 while another may have him going #29.
I'm just going to make picks for the first fourteen slots on the first go-round and then provide the picks of a few different mocks that I respect for #15-#30, along with a short writeup for each team.
#1 LOS ANGELES CLIPPERS
Even Mike Dunleavy can't screw this one up. Barring something obscenely out of the blue, Oklahoma's Blake Griffin will be the first overall pick. The Clippers could use a power forward to replace Elton Brand, and Griffin is the only "sure thing" in this draft. He's strong, skilled and athletic, and he has an improving offensive game. He has star written all over him.
Pick: Griffin, PF
#2 MEMPHIS GRIZZLIES
The Grizzlies were reportedly one of the few teams more interested in UConn's 7'3" center Hasheem Thabeet than they were in Blake Griffin. The Grizzlies already have 7'1" Marc Gasol, so Thabeet wouldn't fill a need like Jordan Hill, Ricky Rubio or Brandon Jennings would (assuming the team isn't sold on Hakim Warrick or Mike Conley), but Thabeet has the potential to become a dominant defensive center along the lines of Dikembe Mutombo. But will he be willing to put the work in to become an effective post player?
Pick: Thabeet, C
#3 OKLAHOMA CITY THUNDER
If the Grizzlies pass on Thabeet, the Thunder might very well snatch him up. They need a center and he fits the bill. But if he's off the board (or even if he's available), the Thunder might look for a point guard. Russell Westbbrook is better off the ball and OKC is set at small forward with Kevin Durant and in pretty good shape at power forward with Jeff Green. Here's where I have trouble taking the general manager cap off – I'm not sold on Ricky Rubio as a star in the NBA. He's a terrific passer and has a great feel for the game, but his jumper needs a lot of work. He's drawing comparisons to Steve Nash and Pete Maravich, but he can't put the ball in the hole like those guys could. Still, at just 17, he went toe to toe with Chris Paul and Deron Williams at the 2008 Olympics, and CP3 gave him a thumbs up, so the Thunder might very well pick him here.
Pick: Rubio, PG
#4 SACRAMENTO KINGS
The Kings have a lot of holes to fill. They really could use an upgrade at every position other than shooting guard, where Kevin Martin holds down the proverbial fort. Beno Udrih turned out to be a mistake, so the Kings could very well go with a point guard like Brandon Jennings (or Rubio, if available). Thabeet is also an option if he slips. Arizona's Jordan Hill is a nice prospect, but the Kings already have Jason Thompson at PF and he played pretty well in his rookie season. More and more, it's becoming a guard's league, so if Jennings or Rubio (or even UCLA's Jrue Holliday, who they are reportedly high on) are available, the Kings will probably pull the trigger.
Pick: Jennings, PG
#5 WASHINGTON WIZARDS
Ah, the Wizards. If management is set on moving forward with the trio of Gilbert Arenas, Caron Butler and Antawn Jamison, they could use an upgrade at off guard and center. It's hard to tell if Nick Young is going to be a starter or is better suited to come off the bench, so Arizona State's James Harden is a possibility. He's polished and NBA-ready, but he disappeared at times in the NCAA tournament and that's worrisome. Still, defenses won't be able to focus on him with Arenas, Butler and Jamison spreading the court, and he has shown great ability to score in space and finish at the rim. Jordan Hill is another option, but I think the Wizards can get by with Brendan Haywood, Andray Blatche and JaVale McGee up front.
Pick: Harden, SG
#6 MINNESOTA TIMBERWOLVES
The T-Wolves are set up front with Kevin Love at power forward and Al Jefferson at center, and have serious needs elsewhere, so Jordan Hill may continue to slip. All of the point guards – Brandon Jennings, Jrue Holliday, Ty Lawson, Jonny Flynn – are possibilities, as are James Harden, DeMar DeRozan and Tyreke Evans. The key is what the T-Wolves think they have in Randy Foye. He's a tweener but seems better suited to be an off guard. Even so, he's been a little disappointing in his young career. I think Lawson is the most polished point guard in the draft, but the T-Wolves might go with the versatility of DeRozan, who has great athleticism and upside (and can play both off guard and small forward).
Pick: DeRozan, GF
#7 GOLDEN STATE WARRIORS
The Warriors don't really know if Monta Ellis can run the point, so one of the point guards is a possibility here. The Warriors seem to be in pretty good shape up front with Andris Biedrins, Brandan Wright and Anthony Randolph, so Jordan Hill doesn't seem like a great fit. The Warriors are going to have to replace Stephen Jackson eventually, so how about Memphis' Tyreke Evans?
Pick: Evans, SG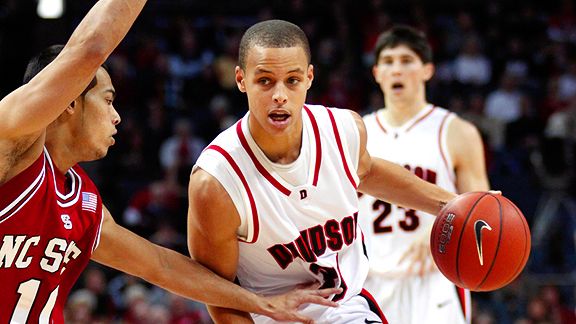 #8 NEW YORK KNICKS
The word is that the Knicks love Curry, either for what he brings to the table in Mike D'Antoni's up-tempo system, or because he increases (however slightly) the chances that LeBron James signs with the Knicks next summer. (LeBron and Curry are good friends.) Some scouts say he's not even a first round talent, but he can shoot the lights out and is a decent playmaker. He's especially effective in the pick and roll, but his roles in college and the NBA will be very different, so it will take him some time to adjust. Let's go with Curry until we hear otherwise.
Pick: Curry, G
#9 TORONTO RAPTORS
Right now, I'm projecting Jordan Hill to be available at #9 and if so, there's a good chance that Toronto will draft him. He's raw, but he's a good rebounder and defender, and has a lot of upside. The Raptors might see the departure of Chris Bosh on the horizon and draft Hill as his replacement. They also need a shooting guard, but it would be tough to pass on Hill here.
Pick: Hill, PF
#10 MILWAUKEE BUCKS
I grew up watching Sidney Moncrief and Bob Lanier, so I'm a Bucks fan through and through. I really hope they plan on keeping Ramon Sessions this offseason, because I think he has all the tools to become a top 10 point guard in the NBA. That said, the Bucks should be looking at the wing or frontcourt with this pick, because Charlie Villanueva may not be back. DeJuan Blair is reportedly looking slimmer and more explosive, but the Bucks had a very bad experience with Robert Traylor, who lost a ton of weight before the draft then proceeded to pack it back on. Traylor averaged 16.2 points and 10.1 rebounds in his sophomore year at Michigan, while Blair averaged 15.7 points and 12.3 rebounds in five fewer minutes per game. The Bucks could use his toughness, but I'm really worried about Blair turning into Traylor, Jr. Ty Lawson would be a great pick if the Bucks plan to let Sessions walk.
Pick: Blair, PF
#11 NEW JERSEY NETS
The Nets are set at point guard (Devin Harris) and center (Brook Lopez). Everything else is fair game. Earl Clark is a versatile forward, Gerald Henderson is a super athletic off guard with an improving jumper and James Johnson is a good all-around forward. Johnson seems like the best fit for New Jersey, who has needs at both forward positions. DeJuan Blair is a possibility as well.
Pick: Johnson, F
#12 CHARLOTTE BOBCATS
Charlotte's biggest need is at off guard and the super-athletic Gerald Henderson seems like a nice fit. He's a streaky scorer, but when he's on, he's on. Larry Brown will like his on-the-ball defense and he should be able to play right away.
Pick: Henderson, SG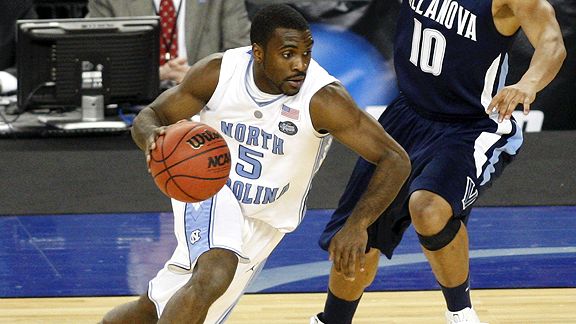 #13 INDIANA PACERS
The Pacers need athleticism up front, but there aren't too many guys that fit the bill. Indiana is building around Danny Granger (and Danny Granger only), so any other position is fair game. The Pacers have two solid point guards in Jarrett Jack and T.J. Ford, but they should grab Ty Lawson here. He's a proven winner, lightning quick, and should make a very good pro. I just think he's the best player available.
Pick: Lawson, PG
#14 PHOENIX SUNS
With Steve Nash's career winding down, the Suns should start thinking about his replacement. There are a ton of point guards that could be available here: Ty Lawson, Jonny Flynn, Eric Maynor, Jrue Holliday and Jeff Teague. The Suns could also go with a sharpshooting wing to help space the court for Nash, Shaq and Amare Stoudemire in the short term, so Wayne Ellington and Chase Budinger are possibilities. I find it doubtful that the Suns will find someone here who can start right away, so Flynn seems like the best available choice. He showed great toughness and vision in the Big East Championship.
Pick: Flynn, PG
#15 DETROIT PISTONS
This pick has more to do with the Pistons' plans for free agency than with trying to find a star to build around. They seem set at guard and small forward with Rodney Stuckey, Rip Hamilton and Tayshaun Prince, but none of those players are untouchable.
NBADraft.net: Tyreke Evans, G
DraftExpress: Terrence Williams, GF
ESPN: Austin Daye, F
#16 CHICAGO BULLS
The Bulls are in pretty good shape personnel-wise, so they can afford to take the best available player and not draft for need. They could use a low-post scorer or potentially an off guard to replace Ben Gordon, who is likely to sign elsewhere.
NBADraft.net: James Johnson, F
DraftExpress: James Johnson, F
ESPN: DeJuan Blair, PF
#17 PHILADELPHIA 76ERS
With free agent Andre Miller getting long in the tooth, the Sixers are very likely to take the best point guard available here. I think Lawson would be a coup. Given the uncertainty around Ricky Rubio and Brandon Jennings, Lawson could very well turn out to be the best point guard to come out of this draft. Eric Maynor, Jrue Holliday, Patty Mills and Jeff Teague are other possibilities.
NBADraft.net: Ty Lawson, PG
DraftExpress: Eric Maynor, PG
ESPN: Eric Maynor, PG
#18 MINNESOTA TIMBERWOLVES (FROM HEAT)
Again, even though Al Jefferson isn't really a center, I think the T-Wolves are set up front with Jefferson and Kevin Love, so they'll probably be looking for more help in the backcourt and on the wing.
NBADraft.net: Patrick Mills, PG
DraftExpress: Jrue Holliday, G
ESPN: B.J. Mullins, C
#19 ATLANTA HAWKS
With free agent Mike Bibby getting older and Acie Law not panning out, the Hawks biggest need is at point guard. Even if they re-sign Bibby for another year or two, it would be wise to find his eventual replacement, assuming the franchise doesn't think Law is the heir apparent.
NBADraft.net: B.J. Mullins, C
DraftExpress: Jeff Teague, PG
ESPN: Jeff Teague, PG
#20 UTAH JAZZ
There is a lot of uncertainty surrounding the Jazz these days. Carlos Boozer, Mehmet Okur and Kyle Korver could all leave via free agency this summer, but one thing's for sure – the Jazz seem determined to retain Paul Millsap. They could use a center if Okur bolts or maybe a small forward to eventually replace Andrei Kirilenko. They figure to lose either Boozer or Millsap, so a backup PF is also an option.
NBADraft.net: DeJuan Blair, PF
DraftExpress: Austin Daye, F
ESPN: Tyler Hansbrough, PF

#21 NEW ORLEANS HORNETS
The Hornets need wings and a replacement for Tyson Chandler if they trade him in a salary dump this summer. Shooting guard seems to be the top priority, so Wayne Ellington, Chase Budinger or Sam Young (who may be the Josh Howard of this draft) are possibilities.
NBADraft.net: Gani Lawal, PF
DraftExpress: B.J. Mullins C
ESPN: Terrence Williams, GF
#22 DALLAS MAVERICKS
The Mavs probably need to think point guard to (eventually?) replace Jason Kidd. Jeff Teague is a lot like Jason Terry in that he's more of a scorer and not a natural playmaker. If the Mavs are still building around Dirk Nowitzki and Josh Howard, then they could use help in the backcourt and at center.
NBADraft.net: Jeff Teague, PG
DraftExpress: Chase Budinger, GF
ESPN: Ty Lawson, PG
#23 SACRAMENTO KINGS (FROM ROCKETS)
Again, the Kings have all sorts of holes, so the direction they go here will likely depend on who they draft at #4.
NBADraft.net: Omri Casspi, SF
DraftExpress: Nick Calathes, PG
ESPN: Nick Calathes, PG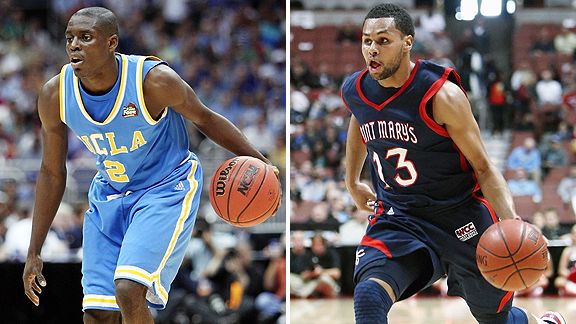 #24 PORTLAND TRAILBLAZERS
Jerryd Bayless doesn't seem like a true point guard, so Kevin Pritchard might elect to go with the pass-first Collison to set up the Blazers' shooters. He can also play good on-the-ball defense.
NBADraft.net: Jrue Holliday, G
DraftExpress: Gani Lawal, PF
ESPN: Darren Collison, PG
#25 OKLAHOMA CITY THUNDER (FROM SPURS)
If the Thunder end up with a point guard at #3, then they will likely look to the front court with this pick. Jeff Green is improving, but he's not a sure-thing to be a starter-caliber PF on a playoff team, so the Thunder may look for some insurance. There isn't much in the way of talent at the center position this late in the draft.
NBADraft.net: Tyler Hansbrough, PF
DraftExpress: Sam Young, SF
ESPN: Gani Lawal, PF

#26 CHICAGO BULLS (FROM NUGGETS)
Don't be surprised if the Bulls package this pick with #16 to try to move up into the lottery and grab more of an impact player. The Bulls need quality players, not bodies.
NBADraft.net: Taj Gibson, PF
DraftExpress: Marcus Thornton, SG
ESPN: Toney Douglass, SG
#27 MEMPHIS GRIZZLIES (FROM MAGIC)
If the Grizzlies do take Thabeet at #2, don't be surprised if they go power forward or point guard here. Do they feel better about Mike Conley or Hakim Warrick? That question might be answered by the position they draft here.
NBADraft.net: Derrick Brown, SF
DraftExpress: Tyler Hansbrough, PF
ESPN: Chase Budinger, GF
#28 MINNESOTA TIMBERWOLVES (FROM CELTICS)
With three first round picks, don't be surprised if the T-Wolves do some wheeling and dealing on draft day. If Minnesota goes with a good wing like DeRozan at #6, they could package this pick with #18 to move up and try to land Ty Lawson or Jonny Flynn in the early teens. Patty Mills seems like a good fit here if he's available and the T-Wolves haven't already drafted a point guard. He's a great shooter who could space the court for Al Jefferson down low.
NBADraft.net: Terrence Williams, GF
DraftExpress: Darren Collison, PG
ESPN: Patty Mills, PG
#29 LOS ANGELES LAKERS
Lamar Odom and Trevor Ariza are both going to be free agents this summer, so the Lakers biggest need is probably at SF, unless Jordan Farmar isn't the future at the point. If the Lakers can get Sam Young here, it would be a coup. He's NBA ready.
NBADraft.net: Sam Young, SF
DraftExpress: Wayne Ellington, GF
ESPN: DaJuan Summers, SF
#30 CLEVELAND CAVALIERS
The Cavs' frontcourt is a little more unsettled than the backcourt. Ben Wallace, Anderson Varejao and Zydrunas Ilgauskas could all be in the final year of their contracts next season. That said, there isn't much in the way of size this late in the draft. The Cavs could go international and let the player develop overseas for a year or two before bringing him over.
NBADraft.net: DaJuan Summers, SF
DraftExpress: Patrick Mills, PG
ESPN: Sam Young, SF
Posted in: College Basketball, MLB, NBA, NBA Draft, Rumors & Gossip
Tags: 2009 Mock Drafts, 2009 NBA Draft, 2009 NBA mock draft, Austin Daye, Austin Daye draft, B.J. Mullins, B.J. Mullins draft, Blake Griffin, Blake Griffin draft, Brandon Jennings, Brandon Jennings draft, Chase Budinger, Chase Budinger draft, DaJuan Summers, DaJuan Summers draft, Darren Collison, Darren Collison draft, DeJuan Blair, DeJuan Blair draft, DeMar DeRozan, DeMar DeRozan draft, Earl Clark, Earl Clark draft, Eric Maynor, Eric Maynor draft, Gani Lawal, Gani Lawal draft, Gerald Henderson, Gerald Henderson draft, Hasheem Thabeet, Hasheem Thabeet draft, James Harden, James Harden draft, James Johnson, James Johnson draft, Jeff Teague, Jeff Teague draft, John Paulsen, Jonny Flynn, Jonny Flynn draft, Jordan Hill, Jordan Hill draft, Jrue Holliday, Jrue Holliday draft, Marcus Thornton, Marcus Thornton draft, NBA Draft, NBA mock draft, Nick Calathes, Nick Calathes draft, Patrick Mills, Patrick Mills draft, Ricky Rubio, Ricky Rubio draft, Sam Young, Sam Young draft, Terrence Williams, Terrence Williams draft, Ty Lawson, Ty Lawson draft, Tyler Hansbrough, Tyler Hansbrough draft, Tyreke Evans, Tyreke Evans draft, Wayne Ellington, Wayne Ellington draft