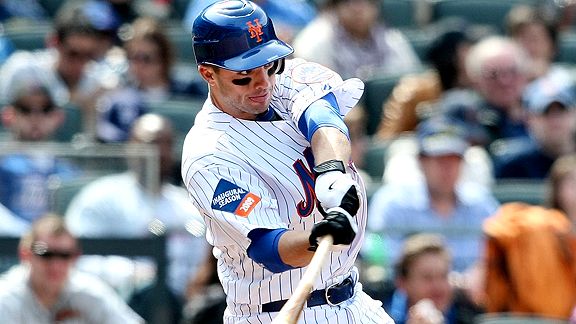 So far, one of the biggest mysteries of the 2009 MLB Season has to be the play of the New York Mets, who I would estimate is the most frustrating team to watch on a nightly basis.
Case in point, last night they had the go-ahead run taken off the score board in the top of the 11th in L.A. because Ryan Church missed third base. And he didn't just miss third base by a step – he missed it by a good mile and a half. Then in the bottom half of the inning, first baseman Jeremy Reed air-mailed a throw home trying to cut down the winning run with bases loaded and the Dodgers managed to beat the Mets 3-2 despite being out hit 11 to 5.
Also in that crucial 11th inning, outfielders Carlos Beltran and Angel Pagan let a routine fly ball hit the ground, which put runners on second and third with no outs. Three batters later is when Reed decided to play catch with a fan in the stands instead of nailing the running at home, which would have given the Mets two outs and a chance to get out of the inning.
Of course, this loss comes on the heels of taking three out of four in San Francisco to kick off a 10-game road trip. In their three wins against the Giants (who were hot heading into the series, by the way), the Mets battled tooth and nail without shortstop Jose Reyes and first baseman Carlos Delgado. Outside of a 2-0 loss on Sunday, it looked like the Mets were gaining confidence at the dish, were finally using their overall team athleticism to make things happen on the base paths (they stole at will against the Giants) and it appeared that a winning streak was on its way.
But the loss last night proves that the Mets are still what we thought they were. Their lineup is chockfull of quality bats, their starting pitching is decent (outside of Johan Sanatana who is phenomenal) and their bullpen is shaky outside of closer Francisco Rodriguez.
But what must have fans and manager Jerry Manuel pulling their hair out is the dumb mistakes this club makes on a nightly basis. The Mets struggle with the most routine defensive plays, guys like Reyes run into outs on the base paths while others (Beltran) seem to only play when they want to.
If they would just do the little things, the Mets would easily be the best team in the National League. Instead, they give off the notion that they're not as talented as they seem and nothing could be further from the truth. The Mets beat themselves more than their opponents beat them.