The Conference Finals: The four trades that got us here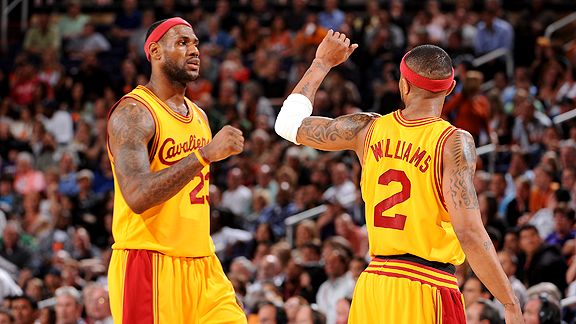 We're down to four teams…Cavs/Magic…Lakers/Nuggets…
What do they have in common? Star power, efficient offense, pretty solid defense, good coaching…check, check, check and check.
But how about an aggressive front office?
Each of these four teams made a major trade in the last two years.
July 11, 2007: The Magic sign Rashard Lewis
This was a sign-and-trade, not a straight free agent signing, but the Magic only had to give up a conditional second round pick. The upside for the then-Seattle Supersonics was a trade exception worth $9 million. The contract (six years, $110 million) seemed outlandish at the time, and Lewis is still overpaid, but the Magic did what they had to do to get him. He's a great fit for what Orlando is trying to do. They are built like the Rockets were in the Hakeem Olajuwon era — find a big man who commands a double-team, and surround him with great shooters. Lewis is the Magic's version of Robert Horry in that he's a lanky, versatile, sharpshooting big man. Strength-wise, he's not built like a typical power forward, but since the NBA has gotten smaller and quicker over the past few years, he can get by against most teams. Offensively, he creates all sorts of problems for opposing power forwards as he can drill the long ball (career 39% from 3PT) or take it to the rack. He's also pretty good in the post when teams try to defend him with a smaller player.
Sure, the Magic overpaid on that contract, but I think it's safe to say that if they hadn't, they wouldn't be in the Eastern Conference Finals right now. Lewis is a big, big part of Orlando's recent success. GM Otis Smith deserves a lot of credit for having the cojones to pull the trigger on this deal.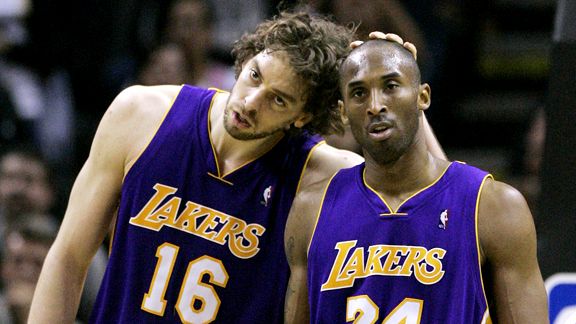 February 1, 2008: The Lakers trade for Pau Gasol
Also known as "the trade heard 'round the world," this was the date when the Lakers went from being a Western Conference also-ran to one of the elite teams in the NBA. For Gasol, the Lakers traded Kwame Brown's expiring contract, point guard Javaris Crittenton (now with Washington, I think), Aaron McKie (to balance the trade out financially), two first round picks and the rights to second round pick (and Pau's brother), Marc Gasol. Memphis used one of those first round picks to acquire Darrell Arthur, who had a decent if unspectacular rookie season. Marc Gasol turned out to be a pretty good center, though time will tell if he's really a starter-caliber big man on a playoff team. No matter what Memphis GM Chris Wallace said at the time, this was a straight salary dump for the Grizzlies.
For the Lakers, Gasol gave Kobe a high-IQ sidekick at the PF/C position. He picked up the triangle offense quickly (which is no easy feat) and seemed revitalized by the trade. His scoring and rebounding has remained unchanged, but his FG% took a big jump in the right direction. The Lakers essentially added an All-Star caliber player without losing any of their top eight or nine players. The only knock on Gasol is that he plays soft at times, and that came back to bite the Lakers in the Finals last year. For Laker GM Mitch Kupchak, the trade represented redemption. He (justifiably) took a lot of flack over trading away Caron Butler for Kwame Brown three years earlier, and it was sweet justice that it was Brown's expiring contract that was the key cog in Wallace's desire to cut salary.
August 13, 2008: The Cavs acquire Mo Williams
As a Bucks fan, I thought Milwaukee got fleeced in this deal, but given the reports that Williams and All-Star guard Michael Redd simply could not get along, I guess it's understandable. There were also some salary cap benefits for the Bucks, and without Williams there, Ramon Sessions has had a chance to emerge as a future star at point guard. (Now, if only the Bucks can hold onto him. Sigh.)
For the Cavs, this seems to be the move that put the team over the top, talent-wise. They gave up Damon Jones (big deal) and Joe Smith (who later returned), so like the Lakers did with Pau Gasol, they added an All-Star talent for basically nothing. And just like the Lakers, this has more to do with having an owner that's willing to spend than it is with any great strategy or tactics in the front office. But I give GM Danny Ferry credit — Williams turned out to be a very nice fit. He had no problem deferring to LeBron (but who would, really) and is given the offensive reins when James hits the bench. He averaged 17.8 points and 4.1 assists this season, but the improvement in his offensive efficiency is the bigger deal. He shot almost 47% from the field and almost 44% from long range, which means his defender can't spend any time in the lane digging at LeBron's drives without paying a serious price.
It's funny that the Cavs were thisclose to adding Redd a few seasons ago and it was the lefty's relationship with Williams that drove him out of town. The Cavs got their guy in the end.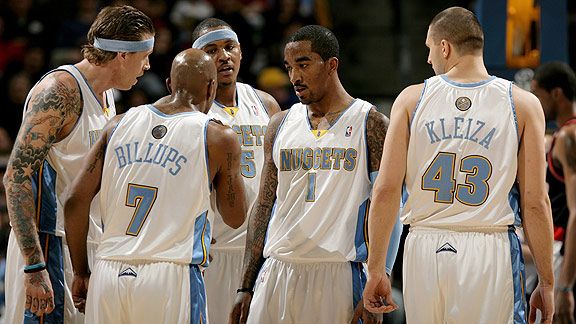 November 3, 2008: The Nuggets acquire Chauncey Billups
At the time, this trade was considered by many (but not me, I'm happy to say) to be pretty even from a talent standpoint, but it turned out great for the Nuggets and not-so-great for the Pistons. Nuggets GM Mark Warkentien saw that the Allen Iverson/Carmelo Anthony experiment wasn't working, so he used AI's monster expiring salary to wrestle one of the best point guards in the league away from the Pistons. Much has been written about what Billups has meant to the Nuggets this season, but I think it's safe to say that his leadership and commitment to defense are the two biggest factors in Denver's rise. He's not threatened by 'Melo (and vice versa), and the two are able to co-exist in a way that the Iverson/Anthony combination simply couldn't. Along with the emergence of a finally healthy Nene, the Nuggets truly are the second-best team in the West (at least).
For the Pistons, this move backfired. GM Joe Dumars was trying to clear cap space for this summer (and next), while still keeping the Pistons competitive. Iverson didn't fit in well, and was a bad match for the personnel already on the roster. By trading away Billups, Dumars essentially gave up any hope of a deep run this postseason. We'll see how he's able to rebuild now that he has all of this cap space.