Lions' approach with No. 1 pick is all wrong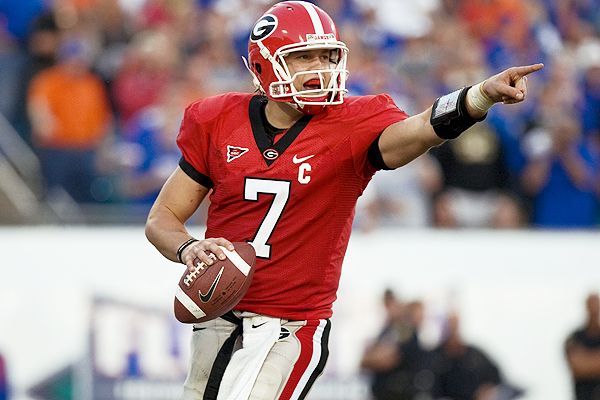 When Matt Millen was finally relieved of his general manager duties last year, Lion fans had a renewed sense of hope. Even though Martin Mayhew wasn't a big, outside name that was coming in to save a burning franchise, Detroit fans reveled in the fact that he wasn't Millen.
Up to this point, Mayhew's first offseason has been relatively quiet. The Lions haven't made any big splashes in free agency, but have added quality pieces to their defense in cornerback Phillip Buchanon and tackle Grady Jackson. The team also made it a priority to re-sign long-time veteran kicker Jason Hanson.
Much of the focus for Mayhew and the Lions revolves around the draft, where they have three selections in the first 33 picks. With major holes at quarterback, middle linebacker and offensive tackle, the Lions will essentially attempt to address two of those needs with the No. 1 and No. 20 picks.
But is Mayhew already screwing things up?
The Lions have stated all along that they wanted to get the No. 1 pick under contract before the start of the April 25 draft. So they began working with the agents of top prospects Aaron Curry, Matthew Stafford and Jason Smith roughly a week ago, and even have a even struck a deal with Curry, who is the top linebacker prospect in the draft.
But even with a contract in place with Curry, the Lions are reportedly waiting to hear from Stafford, who seemingly would be their first choice at No. 1. If you read between the lines, Detroit wants Stafford but only if he agrees to a contract before the draft. If he doesn't, then Detroit will go with Curry.
On the surface, this seems like a realistic game plan. There are three players that the Lions like, so they're basing their final decision on money. What's the big deal?
The big deal is that if the Lions aren't completely sold on Stafford, why are they even considering taking him? He's a quarterback – not a long snapper. Mayhew and the Lions should be tripping over themselves to get to the podium to select him – not waiting to see if he'll agree to a reasonable contract. This isn't Money Management 101 – this is the freaking NFL.
Look I get it, the rookie salary cap is so screwed up and that's part of the reason the Lions have to approach their situation in this manner. But this is a team coming off an 0-16 season so above all else, they can't afford to get this pick wrong. They need a slam-dunk and if Stafford isn't it, then they should be concentrating on which player is.
Mayhew should be working day and night with new head coach Jim Schwartz on figuring out what player best fits everything the Lions are trying to accomplish on the field. As much as the rookie salary cap has to factor into this decision, it still can't be the deciding factor. This isn't like going to the grocery store to buy laundry detergent and coming home with whatever is on sale. The Lions need to get the player right above all else.
This whole notion that they have to take a quarterback because they need one is wrong, too. Do they need a quarterback? Absolutely. Is Stafford the best quarterback prospect in this draft? Yes. But at the end of the day, his strengths as a player have to fit what the Lions want to accomplish offensively. And if his strengths don't match, then Detroit should go with another player and attempt to address their quarterback need at another time.
For the record, this has nothing to do with Curry. I've said all along that he should be the Lions pick for these three reasons: He's the best prospect in the draft, he fills a major need and if the Lions are so worried about money, he comes significantly cheaper than Stafford and Smith. Looking for a slam-dunk? Curry might be the closest thing to it in this draft.
Maybe in the end, Mayhew and the Lions won't screw this up. Maybe they'll make this decision based on financial reasons and still wind up taking the right player. But if I were a Lion fan, I'd be scared to death that my team is clearly not 100% convinced that Stafford (i.e. a quarterback – the most important position on the field) can ultimately win them games.