Raiders' coach won't be charged with assault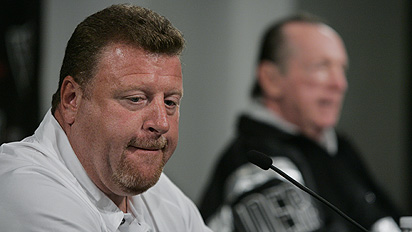 According to San Francisco Chronicle writer David White, Raiders head coach Tom Cable will not be charged for assault on former assistant coach Randy Hanson. There is still a possibility that Roger Goodell could suspend Cable, but that seems unlikely seeing as how police didn't charge the Oakland head coach.
With this behind them, the Raiders can now move on and look to build off of their surprising victory over the Eagles in Week 6. That said, one victory isn't going to magically turn the tide for a franchise that is still in dire straits.
While Cable can breathe a sigh of relief that he isn't heading to jail, he still has the unenviable task of trying to turn JaMarcus Russell into a pro quarterback. Oakland's defense played great last week, but Russell still has major issues with consistency, accuracy and his mechanics.
By all accounts, it looks like the Raiders like playing for Cable. They might not give the best effort every week (see Week 5 against the Giants), but players don't publicly out their head coach in the media. Maybe things will start to turn around for Oakland in the near future…
…wait, I blacked out for a second – is Al Davis still there? Ah, nevermind.