Raiders head coach Cable to be arrested soon?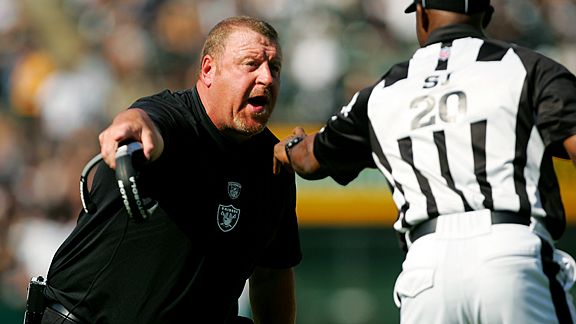 According to a report by Yahoo! Sports, Oakland Raiders head coach Tom Cable could soon be arrested for an altercation during training camp in which he fought with assistant Randy Hanson.
"Everybody is trying to figure out who's going to take over if Tom isn't here," said an assistant coach, who spoke on the condition of anonymity. "John Marshall has a lot of experience, he's probably the guy. But it's nuts. It's crazy when you start to really think about it."

Although Napa Valley (Calif.) police have declined to comment on the investigation, NFL.com quoted the attorney for Raiders assistant coach Randy Hanson as saying that Hanson told police he had been assaulted by Cable on Aug. 5 while the Raiders were in training camp. Hanson was treated for a broken jaw and his attorney, San Francisco-based John McGuinn, said three other coaches, including Marshall, witnessed the attack.
McGuinn did not return three messages left by Yahoo!, but told NFL.com that the situation was "a textbook case of felony assault."
These types of situations have a tendency to be overblown, but this is example 100,000,001 why the Raiders are the most dysfunctional team in the NFL.
The ironic part is that Al Davis probably loved how Cable handled the situation.