Top 10 Pound for Pound MMA Fighters in the World 8/15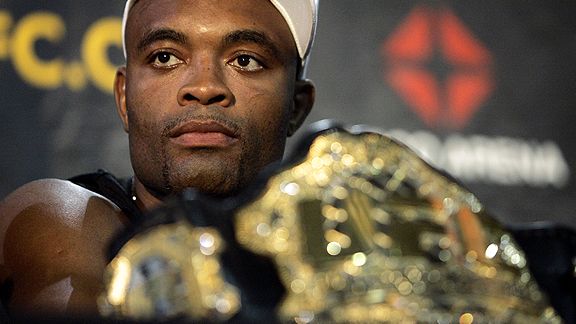 One month ago I had a lot of debate as to who is the best pound-for-pound fighter in the world.
After UFC 101, my questions were answered.
Long have I felt Fedor Emelianenko was the best in the world no matter the weight class, but that honor I now give to Anderson Silva following his absolutely flawless win over Forrest Griffin.
The Silva victory combined with Emelianenko opting to sign with Strikeforce puts Silva at No.1 in my book. When making this list I am considering the fighters as they are today, not as they were five years ago. Emelianenko looked a little sloppy in his last fight and is now going to have much easier competition as a whole in Strikeforce, whereas Silva and Georges St. Pierre have fought the best and looked impressive doing so.
So, here is my list. As always, I encourage healthy discussions.
1. Anderson Silva (24-4) – Middleweight/Light Heavyweight – UFC
If you really look at, the Silva vs. Griffin fight was every bit as big as St. Pierre vs. Penn from a standpoint that you had a champion from one weight class facing a bigger fighter that was one fight removed from being the champion in that weight class as well. Silva made Griffin look like Glass Joe from Mike Tyson Punch Out and basically made Griffin quit out of embarrassment (which has caused me to stop reading Forrest's book, as he know seems to look like a hypocrite). After that display, I truly feel that Silva could not only be Light Heavyweight champion, I have serious beliefs that he is the kind of guy that could actually beat a guy like Brock Lesnar. His accuracy and power while backing up would be a problem for Lesnar in more ways than one. Brock wouldn't be able to get a takedown without eating a solid knee or punch that could put him down. I know many of you think I am crazy probably, but that is the way I feel.
2. Georges St. Pierre (19-2) – Welterweight – UFC
I used to think GSP could give Silva a fight, but I don't feel so good about that now. If Silva was to move to Light Heavyweight on a permanent basis, I would like to see GSP move up to middleweight for a new set of challenges. Guys like Mike Swick and Martin Kampmann don't seem to present much of a challenge and nobody is going to be excited to see rematches with Jon Fitch or Thiago Alves. Middleweight could present some intriguing fights and would really test GSP.
3. Fedor Emelianenko (30-1-1) – Heavyweight – Strikeforce
Well, again this is all about present day and Fedor hasn't done anything as of late to keep his top ranking while guys like Silva and St. Pierre are beating some of the best. Fedor had no control over what happened with Affliction: Trilogy, but the option to sign with the UFC was there and he turned it down. He has to know that UFC has better overall talent and hosting an exhibition sparring match with Gegard Mousasi is not going to get me excited. I think Fedor's career is probably the best of anyone, but in terms of best fighter in the world today, I don't see him as No. 1.
Posted in: Mixed Martial Arts
Tags: Anderson Silva, B.J. Penn, Best MMA fighters, Brock Lesnar, Dan Henderson, Diego Sanchez, Fedor Elemianenko, Gegard Mousasi, Georges St. Pierre, Jake Shields, Jon Fitch, Lyoto Machida, Miguel Angel Torres, Miguel Torres, Mike Thomas Brown, MMA Top 10 lists, Quinton Jackson, Rampage Jackson, Rashad Evans, Thiago Alves, Top 10 MMA Fighters, Top 10 MMA fighters regardless of weight class, Urijah Faber