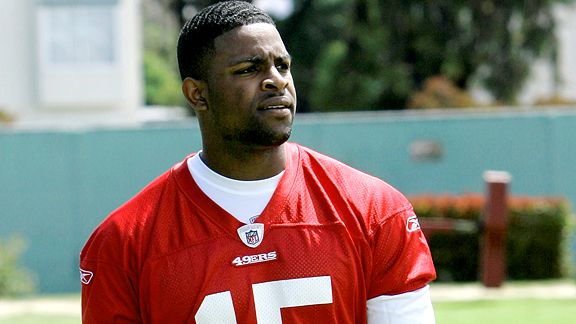 According to Jay Glazer of FOX Sports, the 49ers and Michael Crabtree have agreed to a six-year deal after his agent Eugene Parker had a face-to-face meeting with the team's vice president of football operations Paraag Marathe on Wednesday morning.
Contract details weren't immediately released, but Glazer reports that the deal can be voided after five years if Crabtree has "two very good years among his first four." If he doesn't, he'll make $4 million in the sixth year.
If the final contract numbers are similar to the Niners' first offer of five years, $20 million with $16 million guaranteed, then this was a massive fail by Parker. In the end, he essentially advised Crabtree to holdout for all of training camp and four weeks of the season only to receive the same contract that he would have had if he signed in the offseason. Only now, Crabtree gave up four-plus games of his career and is now behind the eight ball in trying to get that final year voided.
This will go down as one of the all-time agent blunders. The arrogance of Parker to think that he could command more money than the draft slot his client was taken in is outright laughable. And if other athletes were paying attention to how this all went down then Parker also cost himself future clients with his stupidity.
Moving forward, Crabtree probably won't see the field for the next couple weeks as he attempts to get caught up on the playbook and back into playing shape. He probably won't make an impact in his first year, which is another thing he can thank Parker for.
Eugene Parker cost Michel Crabtree, at the very least, half of his first season. The kid could have gotten better advice from a dead squirrel lying on the side of the highway.
Crabtree's fantasy value? In most leagues, he doesn't have much. Rookie wide receivers don't usually make a splash their first year, and Crabtree has missed all of training camp and the first four games of the regular season, so he is WAY behind. That said, if you're in a keeper league with big rosters, Crabtree does have some value. If you have a place to stash him and he becomes a decent threat for the 49ers late in the season, then he would be an asset heading into the summer. Obviously, Crabtree has a lot of value in dynasty leagues.