Should 49ers be worried about Crabtree holding out?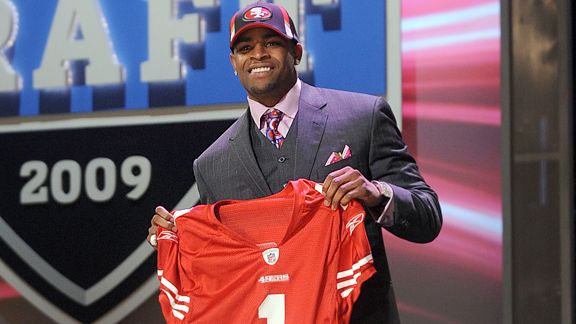 According to 49ers beat writer Matt Maiocco, the 49ers could have trouble signing first round pick Michael Crabtree in time for the start of training camp.
If history tells us anything it's that Crabtree's agent, Eugene Parker, does not mind engaging in holdout tactics. (Technically, an unsigned rookie is not a "holdout" because no contract has been agreed upon. I'll try my best to refrain from calling it a holdout. Rather, it's a contract stalemate.)

At least four of Parker's clients had contract issues last season. Bills tackle Jason Peters skipped 43 days and missed the season opener. Rams running back Steven Jackson held out for 27 days before signing a new contract. Bears return man Devin Hester did not report for the first two days of camp before signing a new deal. And Cardinals rookie cornerback Dominique Rodgers-Cromartie missed two practices before signing his contract.

Yes, the 49ers have been successful in getting their draft picks signed on time in recent years. But the agents deserve some credit, too.

The 49ers – and every team in the NFL – believe that a player's rookie contract is essentially predetermined by where he was selected in the draft. As the No. 10 overall pick, Crabtree should receive less than the No. 9 pick and a little more than No. 11.

I don't believe the 49ers would buy the suggestion that Crabtree deserves more money because a lot of outsiders thought he should have been selected sooner in the draft and he was generally regarded as a better prospect than receiver Darrius Heyward-Bey, whom the Raiders selected with the seventh pick.
As Maiocco indicates in the article, there's still a ton of time and more importantly, only four first round picks have signed (Matthew Stafford, Mark Sanchez, Alex Mack and "Ziggy" Hood) up to this point, which indicates that it isn't out of the norm that the Niners haven't signed Crabtree yet. It might take the Packers signing B.J. Raji (who was selected a pick ahead of Crabtree) or the Bills signing Aaron Maybin (who was selected a pick behind Crabtree) before the 49ers are able to work out a deal with Crabtree.
Either way, panic shouldn't be setting in San Fran just yet.