Crabtree not a lock to start Week 1?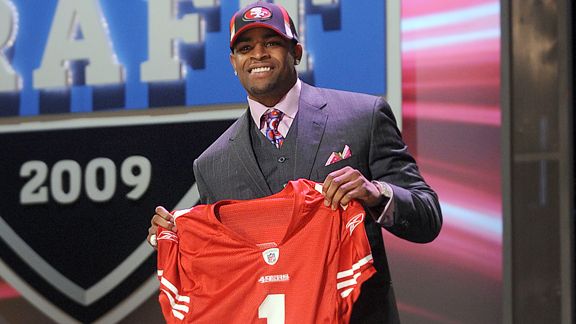 A lot of pundits believe that 49ers' first round pick Michael Crabtree will make the biggest impact this season among offensive rookies. But as Sacramento Bee beat writer Matt Barrows points out in a recent Q&A, Crabtree might not be a lock to start Week 1 as he continues to rehab a foot injury he suffered the week of the NFL scouting combine.
…Just a few years ago, the team's top three wide receivers were Cedrick Wilson, Brandon Lloyd and Curtis Conway. As for the current situation … while Morgan and Crabtree currently are slated to play the "X" position this season, all the 49ers receivers are taught to play multiple positions. For example, Morgan lined up and both "X" and "Z" during the recent OTAs. Which is to say, if those two end up being the team's top two receivers, the 49ers will find a way to get them on the field at the same time.
Having said that … Keep in mind that Crabtree (foot) won't be able to practice with the team until training camp. So he's not only a rookie learning how to play against big, physical cornerbacks, he's also getting a late start on the learning process. In other words, there's no guarantee he'll be a starter in Week One.
This isn't earth-shattering news to hear that a rookie has a long way to go before he's considered a starter. But it's a reminder that even though Crabtree has a ton of expectations being thrust upon him already, he still has to put in the work this summer in order to climb the depth chart and become a full-time starter. It'll be interesting to watch his development throughout mini and training camps over the next couple months.