2009 MLB Preview: #4 Chicago Cubs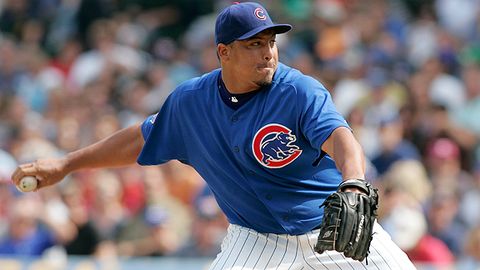 Click Here to see Previews of all 30 MLB Teams
Offseason Movement: The Cubs were seemingly hosed by the Indians in a trade that sent ultra-utility player Mark DeRosa to Cleveland in exchange for minor league pitching prospects Jeff Stevens, Chris Archer and John Gaub, none of which were viewed as top 10 prospects in the Tribe's organization. But maybe one of those youngsters will emerge as a quality arm down the road and DeRosa's contract does expire at the end of the season so at least the Cubs got something for him. Chicago also added volatile outfielder Milton Bradley, reliever Kevin Gregg and pitcher Aaron Heilman, who will move to the bullpen after losing out to Sean Marshall this spring for the Cubs' fifth spot in the rotation.
Top Prospect: Josh Vitters, 3B
This club is loaded with quality prospects, including reliever Jeff Samardzija, shortstop Ryan Flaherty and outfielder Tyler Colvin. But Vitters appears to be the best of group, with his excellent plate approach, outstanding hand-eye coordination and natural swing. Thus far in Single-A, Vitters is hitting .357 and slugging .529 in 70 at bats. At only 19, he still has a ways to go before he'll make his big league debut, but Vitters appears to have quite a future ahead of him.
Posted in: MLB
Tags: 2009 MLB Predictions, 2009 MLB Preview, Aaron Heilman, Alfonso Soriano, Angel Guzman, Aramis Ramirez, Bob Howry, Carlos Marmol, Carlos Zambrano, Chad Gaudin, Chris Archer, Geovany Soto, Jeff Samardzija, Jeff Stevens, John Gaub, Josh Vitters, Kerry Wood, Kevin Gregg, Lou Piniella, Luis Vizcaino, Mark DeRosa, Milton Bradley, MLB Preview 2009, NL Central Predictions, Rich Harden, Ryan Dempster, Ryan Flaherty, Tyer Colvin