Which position is the safest bet in the first round?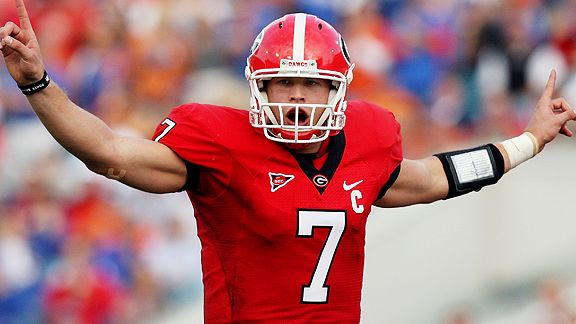 I was watching one of the many Mel Kiper and Todd McShay arguments on ESPN the other day [video], and Kiper was arguing that if McShay has Matthew Stafford ranked so high (McShay currently has Stafford ranked #8), then he should almost be a no-brainer for the Detroit Lions, who have the #1 overall pick and need a quarterback. McShay isn't convinced that he's a so-called "franchise" quarterback, so he says he would go another direction. (For the record, at the time Kiper called McShay "crazy" for having Stafford that high, but now he has the QB ranked #3 on his big board. It's clear that Kiper's pure hatred for McShay is causing him to slowly lose his mind.)
Anyway, the debate piqued my interest and got me wondering – when it comes to the first round of the NFL Draft, is one position safer than another? For example, if the Lions have three holes to fill (they have more, but bear with me) – quarterback, linebacker and tackle – and they can't decide amongst the three players, is one position a safer pick than the other two?
Posted in: Fantasy Football, MLB, NFL, NFL Draft
Tags: 2009 NFL Draft, Aaron Curry, Adrian Wilson, Anthony Stalter, Brett Favre, Brian Dawkins, Clint Sintim, Donovan McNabb, Drew Brees, Ed Reed, Jake Long, Jason Smith, John Paulsen, John Paulsen and Anthony Stalter, Matt Ryan, Matthew Stafford, NFL Draft, Peyton Manning, Rey Maualuga, Tom Brady, Troy Polomalu, Vernon Gholston