2009 CFB Preview: Oklahoma Sooners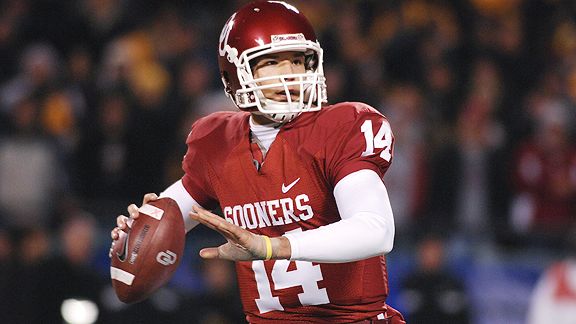 Check out our other 2009 college football previews.
Preseason Ranking: No. 3 in AP Top 25; No. 3 in USA Today Poll.
Key Returning Players: Sam Bradford (QB); Chris Brown (RB); DeMarco Murray (RB); Jermaine Gresham (TE); Ryan Broyes (WR); Trent Williams (OT); Travis Lewis (LB); Keenan Clayton (LB); Ryan Reynolds (LB); Jeremy Beal (DE); Auston English (DE); Gerald McCoy (DT); Adrian Taylor (DT); Dominique Franks (LB); Brian Jackson (CB).
Key Losses: Phil Loadholt (OT); Duke Robinson (G); Brandon Walker (G); Jon Cooper (C); Nic Harris (S); Lendy Holmes (S); Juaquin Iglesias (WR); Manuel Johnson (WR).
Player to Watch: Sam Bradford, QB.
While defensive tackle Gerald McCoy and tight end Jermaine Gresham certainly deserve mention, listing any other Sooner besides Bradford in this section would be a crime to the college football world. He's the key to whether or not Oklahoma will make a repeat appearance in the title game and whether or not the Sooners will inevitably be crowned champions. Many, including his head coach Bob Stoops, believe that the 2008 Heisman winner will be even better this year than he was last season. Considering Bradford threw for 4,720 yards and 50 touchdowns last season, that's a scary thought for the Big 12.