Jets, Falcons suffer blows to their defenses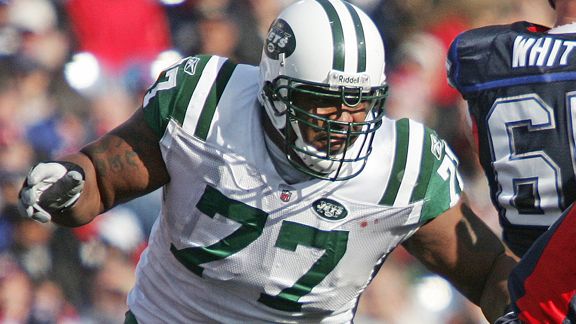 NFL.com is reporting that Jets nose tackle Kris Jenkins is out for the season with a left knee injury, while FOX Sports reports that Falcons cornerback Brian Williams is done for year after tearing his ACL in Sunday night's win over the Bears.
Defensive end Sione Pouha will likely move to nose tackle to fill the void left by Jenkins, while Marques Douglas or Mike DeVito enter the starting line up at end. The Jets' run defense suffers the most with Jenkins' injury, although Rex Ryan has mastered the art of masking defensive weaknesses so at least New York has that going for it.
Still, this isn't a good sign for a defense that held opponents to only four rushing touchdowns in the first six weeks of the season. Jenkins has often proved to be a thorn in opposing teams' sides and will be missed.
Williams was a great find for the Falcons after the Jaguars cut him right before the season. He added a veteran presence to an inexperienced Atlanta secondary and now the Falcons are once again highly susceptible through the air. Brent Grimes and Chris Houston will now be the starters, while Chevis Jackson, Ty Hill and rookie Chris Owens will see increased playing time.
The Falcons are hoping that Houston will eventually cash in on some of his athletic talent and become the No. 1 corner the team envisioned when they drafted him in the second round a couple years ago. Despite his great speed, he often gets burned in coverage by using poor technique and never gets a successful jam off the line. At this point, he looks like a bust but maybe Williams' injury will motivate him to step up.
These two injuries could wind up exploiting weaknesses for the Jets and Falcons – especially for Atlanta seeing as how it still has to play the pass-happy Saints twice this season.